The Matrix Source audiophile power cable (introduced to the range May 2022). And employ a unique design of working from the inside out. Also the power cable, employs four conductors sealed in a 15.0 MM 'Air-tube'. And isolation is further aided by covering the 'Air-tube' with foil shielding. Also layers of PTFE, anti-static and Fleece material. The Matrix Source cable is extremely light and flexible to use, easy to run around most components in the audio chain. And designed to be used with your source component. Including DAC, CD player, media player, streamer, Pre-amp and guitar amps. But can also be used with your amplifier due to the high conductor power handling. Matrix source audiophile power cable
Power cable
The Matrix Source cable has five separate conductors, four of which, covered in a black PolyCast dielectric (26 strand x 0.25 mm OFC 'tinned' conductors). The firth conductor is solid copper. And the cable is constructed in 1.0, 1.5, 2 and 3-meter lengths. Also, the Matrix Source cable, fitted with anti-vibration plug bodies, has Rhodium-plated pins for a perfect electrical contact. And with a 'Snug-fit' power plug makes it easy to get a perfect connection. The plugs comply with EU/US standards. And meet industrial tamper-proof specifications. Also, for ease of use with the EU cable, the positive side of the plug reveals a red spot. And aids for quick and correct component connection. Before listening, please ensure all your Power cables are connected in the same manner. The "live" side goes to the positive connection of your power outlet.
AirGap shielding
One of the best-known insulators in the world is Air. And I have been able to increase the amount of Air within the cable. By using a 15.0 mm 'Air-tube'. The 'Air-tube' is sealed after the conductors added, and the results are easily heard. Also, as well as huge performance increase, the cable weight is reduced to 480 grams. And as a result, the cable is flexible and easy to pass through places having limited access. Also, the cable conductors are actually resting in a tube full of Air. And this tube of Air prevents the conductors from lying on the floor, and so reducing vibration and external interference.
The Source Cable
The Matrix Source cable exhibits extremely vivid tone colour, and superb dynamic response. Including melodic sophistication, harmonic complexity, live-like timbral complexity, and fantastic image presence. Also, the natural life-like level of resolution and excellent soundstage portrayal is breathtakingly musical. And with such a high level of intensity of emotional engagement makes for the best cable experienced.
The Matrix Source cable proves everything claimed regarding performance, ease of use, and musicality. Also, having a blacker background allowing increased dynamic range, imaging and focus. The Bass is tight and lively, with depth and width as never heard. And, as a result, detail and micro details are everywhere in a perfect 3D presentation. The Matrix Source cable is certainly a cable not to be missed or confused with a regular power cable, because it just does so much more!
The Matrix Source cable, tested in High-end audio system at 'Garso Namai', located Kauno g 31, Vilnius, Lithuania. The speakers used for testing were supplied by Pylon audio – the Jasper 25 MKII loudspeakers. The amplifiers were supplied by Musical Fidelity – M6S preamplifier and the M6SPRX power amplifier. Also, the M6s PRE is effectively a preamp without limits. Its wide range of inputs, coupled with excellent performance, meaning it can form the heart of almost any system. It's a pure Class A design capable of driving any power amplifier over any length of cable. 
Specification
Cable size: 18.0 mm
Weight 480 – 890 Grams
Length: 1.0, 1.5, 2 and 3 Meters
Construction: Multi-stranded/high purity OFC
Conductors: 4 x 16 AWG 
Earthing: 1 x solid core copper
PolyCast dialectic for each conductor 
Shielding: Aluminum foil 100% 
Voltage: 600 volts, 25 Amps
Temperature: -40 to +70 C
Resistance: 0.0017 Ohms/meter
Capacitance: 87 pF/meter
Insulation: PTFE/ Anti-static compound
Secondary AirGap: DERAY-PBFSP/Plastic ribbed
Second level shielding: PVC/Thermaflex
Testimonial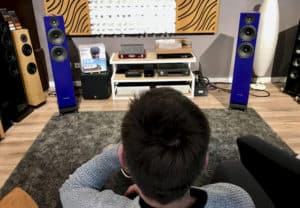 I am a music producer and tested many cables, and was testing the cable three weeks ago. And what did I hear from the latest Matrix SOURCE power cable?
I am surprised by the difference made in the musical presentation in every respect. And everything was super smooth and open. Also, I listened to a more transparent and, at the same time, more natural sound from the music. The Bass was the best bass on the planet and gave such an intensity it grabbed hold of me! The cable allowed an excellent portrayal of melodies, rhythm, and dynamics. And these are the attributes that I look for in my music. Also I was very excited about what I heard. Because I wanted to keep listening and actually ended up for three hours at the listening session. And I really Loved this cable and definitely the best sounding power cable I have ever heard – Yes this is an exceptional cable, beautiful bottom end, great control over the music through the midrange. And separation between instruments is fantastic – Tommy Blinder, Lithuania
Pricing
1.0 Meter EU/US 997 Euros
1.5 Meter EU/US 1197 Euros
2.0 Meter EU/US 1397 Euros
3.0 Meter EU/US 1597 Euros
Additional info –
Matrix Amplifier, Matrix Black, Matrix Source, Matrix XLR, Matrix loudspeaker, Matrix digital, Matrix Results
If you enjoyed reading 'The Matrix Source audiophile power cable', please share with friends – thank you.
 Perkune  Best budget Audiophile Cables