Audiophile quality three-meter Guitar cable. This enables you to bring the sound from your guitar to a completely new level. This is because the Guitar cables bring out far more detail than a standard guitar cord and will bring clarity, life, and dimension to your music!
Guitar cables
Three-meter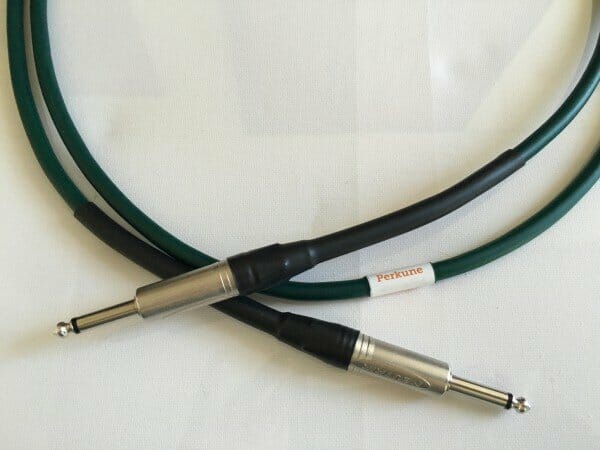 The Guitar cable is fitted with the PX series heavy-duty professional Jack plugs from Neutrix which offer the thinnest available A-gauge 1/4″ plug with unique Neutrik chuck type strain relief.
The slimline shell with a width of 14.5 mm meets the most recent requirements for highest density jack fields (15.88mm jack pitch). The machined one-piece tip contact without rivets makes it unique and avoids hook up in a socket or break off the tip. The PX Series serves all applications such as guitar applications, audio cables, snakes, speakers, amplifiers and mixing desks – read more
Powerhead cable 
Audiophile One-meter Powerhead cable. This enables you to get the most from your amplifier because our cable is able to provide very wide bandwidth and impeccable signal integrity.  The Powerhead cable is an ideal match for the interconnect cable and work together to make your music sound at it's very best.
The Guitar Powerhead cable is fitted with PX series heavy duty professional Jack plugs from Neutrix which offer the thinnest available A-gauge 1/4″ plug with unique Neutrik chuck type strain relief ~ For more information please click here
Specification
Conductors: 2 x O.F.C (Red Copper).
Insulation: Compact PE.
Shield: Spiral covered O.F.C (red Copper) 88 strands.
Sheath: PVC. Outer sheath: Plastic shrink-wrap.
Cable Diameter: 6.0 mm.
Signal conductor: 16 strands (23 AWG).
The resistance of cable made up is less than 0.2 Ohms,
Guitar testimonials
Price list
If you have enjoyed 'Guitar cables', please share with friends and colleagues – thank you