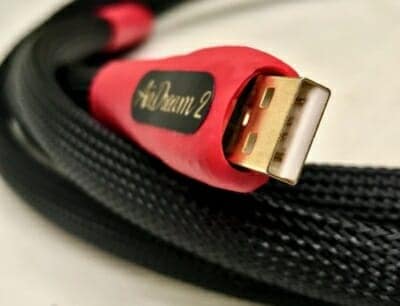 The AirDream 2 USB cable, was designed to bring out the best of your musical presentation. And, certainly shows what a competent USB cable can do. And, guaranteed to take your computer audio system to the next level.
Hi-Purity
The cable employed Gold plated high purity OFC conductors. And, it eliminates the adverse effects of jitter and timing errors. The conductors wrapped with 'Perkune second level shielding' technology. Which, includes Aluminium foil, dual Teflon and Vinyl Tape. The result is the lower capacitance of the cable,  increasing signal speed and bandwidth.
Performance
To reduce noise, and protect the USB signal path from any external interference, Perkune employs a second layer, foil jacket and silver braided shield. Finally, before being terminated with gold-plated, fully shielded connectors, the AirDream 2 USB is cut to length, which reduces internal microphonics and high-frequency impedance resonance.
As with all Perkune products, the AirDream 2 USB 2.0 Cable is handmade, ensuring a high level of production quality and extreme precision necessary to manufacture USB cables capable of the highest level of performance. The AirDream 2 USB 2.0 Cable is the solution to achieve the superb sound staging, wide dynamic range, and the precise timing you have been looking for in computer audio.
Specification
C

able diameter: 13.0 mm

Conductors: 28 AWG
OFC high purity
Gold plated connections
Connections: Type  A and Type B

Transfer rate: 250 MHz

Braided shielding
Insulation: Compact PE
Second Line: Aluminium foil shielding 100% coverage
Secondary sheath (AirGap): DERAY-PBFSP
Secondary Insulation: Teflon, 2.0 mm x 12 meters 
Secondary Insulation: Vinyl tape
Outer sheath: Dual Canflux
Pricing
1.0 Meter USB  397 Euros
1.0 Meter Reference  797 Euros
3.0 Meter USB 497 Euros
3.0 Meter Reference 997 Euros
Customer testimonies
If you have enjoyed  'The AirDream 2 USB cable', please share with friends and colleuges – thank you.

Perkune home – Best Audiophile Cables Online