The Ultimate loudspeaker cable is a beautiful sounding cable, which brings the music right into your room. Filling with micro detail, echoes, after echoes and a sense of realism. Just like you were at the recording or live event.
Silver-plated (2.45 g/m) 99.99% OFC multi-strand conductors, 24 Gold plated connectors, two-level AirGap isolation, and PE sheath make this cable a must for the serious Audiophile! 
Termination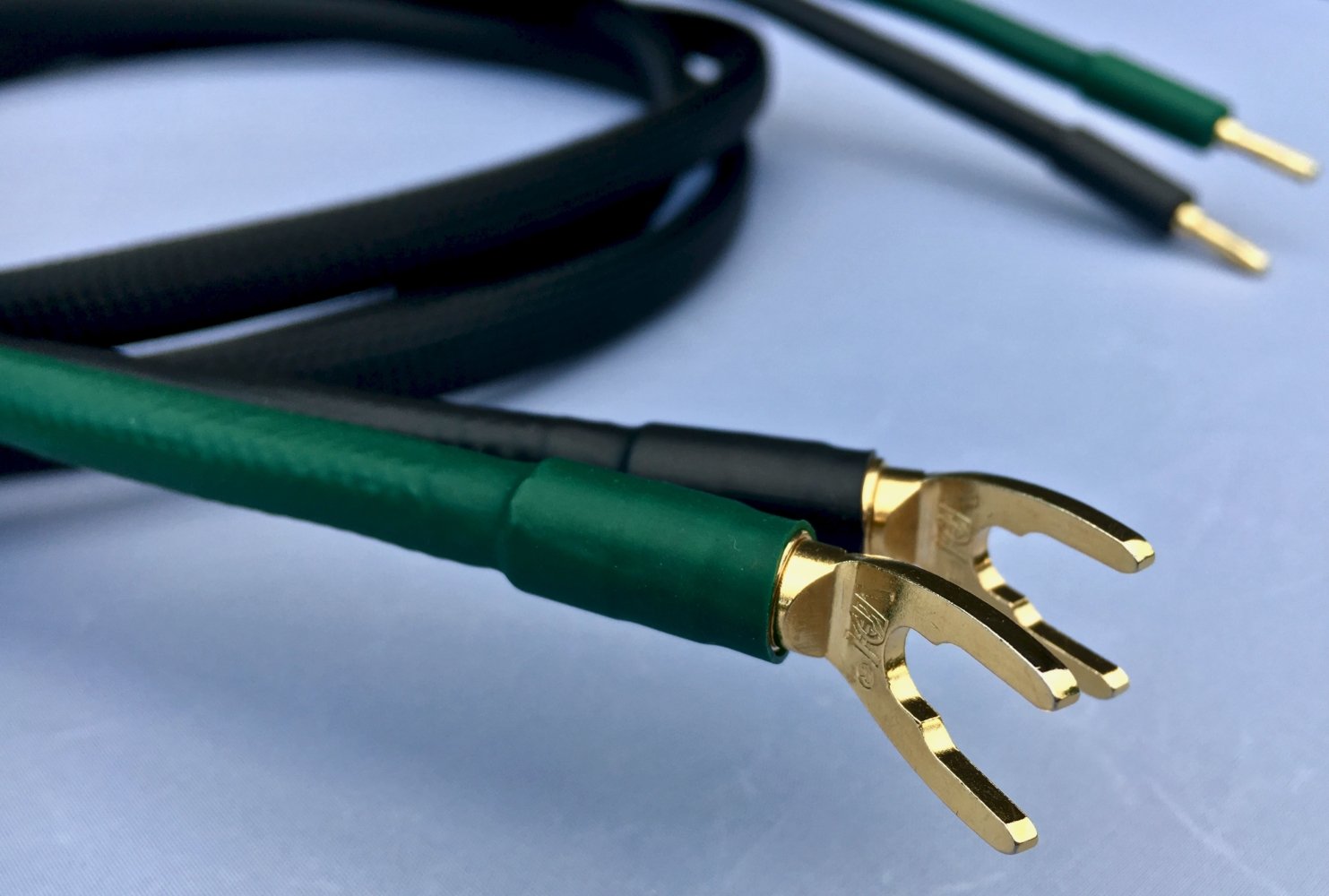 The cables usually are 24K gold plated banana connection but can be supplied with angled spade terminal blades. These are 2.0 mm thickness, 15 mm external width and fits studs from Ø 5.0 mm to Ø 9.0 mm. The Ultimate loudspeakers cable supplied in 2.5, 3.5, 4.5 and 5.5-meter lengths.
I am constantly working to improve the series of audio cables. And, as and when the particular series have been upgraded customers will be notified.
Timing
We are in the year 202,0 and so much work has gone into the upgrading of all my cables. Making the cables much better in performance and proving to be the best value for money anywhere in the audio industry!
I now have five years of history and results to share,e and I have never had a complaint. Which means that I am doing something right!
My cables used by professionals and semi-professionals alike and all users are very pleased with the positive performance provided by my cables.
Specification
Cable size: 14 x 8 mm.
Conductor size: 2.50 mm.
Number: 2 Silver-plated (2.45g/m) O.F.C 99.99% (containing 50 strands x 0.07 mm).
Resistance: 0.014 Ohms/meter.
Capacitance: 60 pF/meter.
Inductance: 0.7uH.
Insulation Vinyl.
Primary AirGap: DERAY-PBFSP.
Secondary AirGap: DERAY-PBFSP.
Outer sheath: CanuFlex PB-HB.
Certificate: ISO 9001:2008
Pricing
2 x 2.0 meter – banana connection 697 Euros
2 x 3.0 meter – banana connection 897 Euros
Customer testimonials
If you have enjoyed 'The Ultimate loudspeaker cable, please share with friends – thank you. 
Perkune home – Best Audiophile cables Online