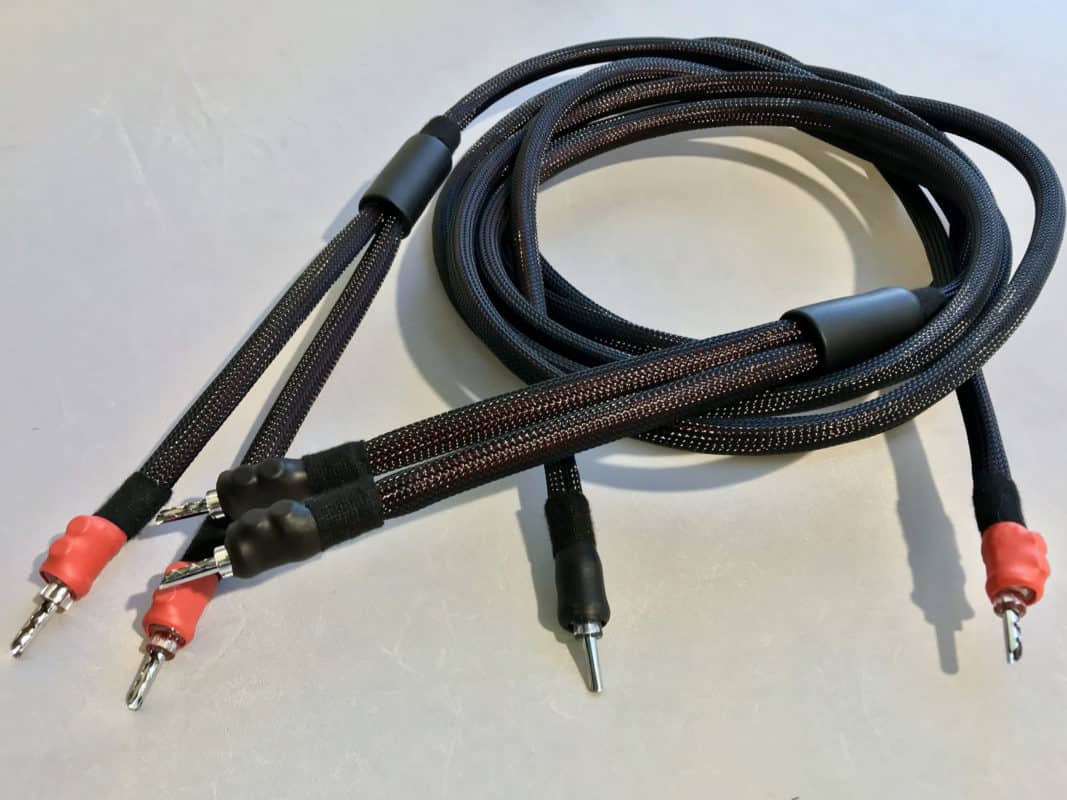 The Reference Separate is a three-meter cable and configured for Bi-wire or single wire operation. The connections are Rhodium-plated and very easy to work. The difference about this cable is that I am using one cable for the positive side and one cable for the negative side of the loudspeaker. And, because of the increase in performance heard, I decided to take the Reference Separate to three audiophile friends to get their opinions.
Reference Separate
The first person I went to see was Artasas,  from Music and Magic. A place where musicians, audiophiles, and people interested in music can come and listen!
And, I must say the system shown is in a class of its own as no expense spared in its creation. If you are an audiophile, a musician or a music lover, then you really must visit because this is a kind of magic!
The second person I went to see waa Paulis, form A Cappella. I have known Paulis for over 17 years, and he is a true professional in the audio field.
And, the one thing I like about Paulis, is that he is always spot on when it comes to listening and testing audio. Loudspeaker Cables, Interconnect cables, Power cables, and the many different amplifiers and players that we see today in the market place.
The last person I went to see was Lukas, who owns Garso Namai. A small company but has so much to offer in terms of support and component location.
Lukas will search through his many contacts to find anything your need and will also arrange product or component shipping, either locally or internationally. And, again, Lukas has an excellent ear for comparison and evaluation, and his opinion is highly valued.
The 'Separate'
Reference Separate is a very high-quality single speaker cable. But, unlike most speaker cables, this cable has 'AirGap' insulation, PTFE shielding, 'AirTube' suspension, and Aluminium shielding. Which, means the prepared cable treated to be a singular item. And, this single or 'Separate' cable feeds the positive side of the loudspeaker.
A second cable is also available and feeds the negative side of the speaker cable. So we have two wires which are independent or 'Separate' from each other feeding the loudspeaker. The loudspeaker can have a stereo connection or a Bi-wire connection. The second loudspeaker fed in the same way, and so we end up with two cables feeding the left speaker. And, two feeding the right speaker.
Construction
The Reference 'Separate' loudspeaker cable, is constructed for either Single or Bi-wire operation. And, either banana or spade Rhodium-plated connections used because of longevity and non-oxidation characteristics. The cable is lightweight, using a slimmer design but, has all the features of the Reference speaker cable. Also, the audio cables are colour coded Red for positive and Dark brown for the negative. There two or three Anti-static pads fitted on each cable depending upon the type of cable required. The cable conductors use the 2.97mm2 High purity OFC conductors having a resistance of 0.0057 Ohms /meter, which are the same as used in the Reference speaker cable. 
Static
We are all aware of static, primarily in terms of the surface effects of static build-up on audio cable performance. The Reference speaker cables are fitted with Anti-static pads to prevent static build-up. And, I recommend the application of anti-static fluid (bottle supplied) sprayed over the surface of the speaker cables. And, will disperse existing static charge as well as inhibit future accumulation. After the application, let it dry naturally. And, you will be amazed at the sonic improvements obtained.
Performance
The performance of the Reference 'Separate' speaker cable is better than I could have ever imagined. The biggest impression is the total transparency and instrument positioning. Everything has Knife-edge clarity and, the sound has become so smooth, like Liquid gold. But, still has that tight deep bass with a soundstage that fills your listening room. And everything is right there and has become alive!
Listening
The first listening session turned out very different from what I expected. I was testing my new cable against the Perkune Reference (Bi-wire) speaker cable. And, I was not sure how it would stand up. But, It turned out to surprise us both, and we both agreed on all the points. It was so good when Atrtasas said 'Paul, we must drink to another great cable from Perkune'
The second listening session showed up even more of the cables performance. Because it was like a new layer of sound had been added to the lower middle frequencies. Where and how it appeared was beyond us. All we could do was enjoy everything, But the best part was when we put the system back to the Van-den-Hul cables, and we both felt that 40% of the music had disappeared. Yes, it was that obvious. And, Paulis said 'Paul, I like this cable very much.'
The last session was another great experience because the equipment used not classed as hi-end, but just good quality Hi-fi. But, another surprise because the performance improved to such an extent we both just listened in amazement. WE could hear so much more with these cables, and at the end of the session, Lucas used the same words as Paulis. Which were 'Paul, I like this cable very much'  And, this was a compelling message to me.
Conclusion
I am convinced that using two separate cables to feed a loudspeaker is the best way to operate. And, to hear a much better sound than from using a standard twin-core cable. Also, A speaker cable is not acceptable in this generation if not treated with items that help prevent noises and interference from surrounding sources.
Customer testimonials
If you enjoyed 'The Reference 'Separate',' please share with colleagues – thank you.
Perkune – Best budget Audiophile Cables