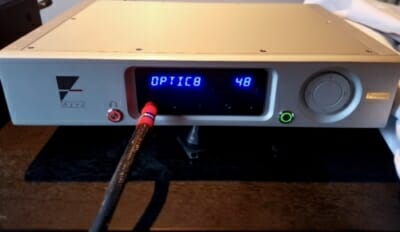 'AirDream' headphone cable is the best audiophile cable available today and improves the sound heard providing a natural and articulated performance from your existing headphones. And, the Cable can be used with the 'Best of the Best' components such as the latest from Ayre acoustics.
Ayre acoustics
In today's digitally-connected world you need more than just a DAC or a streamer. You need a device that can effortlessly render your highest resolution files and, without missing a beat, play your favourite online streaming services or BBC broadcast.
"The QX-5 Twenty, made me smile for weeks and many hours of listening, sometimes into the wee hours just for the fun of it. The Ayre is among the smoothest and the most natural-sounding digital devices I've heard"
Michael Lavorgna, AudioStream
Construction
The cable is constructed using 2 x OFC conductors plus a separate braided shield. 'AirGap' shielding, 'AirTube' suspension and Teflon binding. These techniques greatly reduce external interference from components and cables, resulting in increased signal speeds and accuracy in signal transfer. 
Crossovers
The 'AirDream' headphone cable is supplied with 3.5 male and female connections for a recording studio and industrial application. For domestic applications, a 3.5 mm x 2.5 mm crossover can be supplied upon request. The cable can also be made to any length you may require. And, please email for pricing.
Specifications
Cable: 16.00 mm.

Type: Noiseless.

Conductors: 3 x 0.35 mm, OFC 99.9% (containing 9 x 0.15 mm strands).

Resistance: 0.060 Ohms/m.

Capacitance: 55 pF/m.

Insulation: Compact PE plus tinned copper braided sheath.

First line: Single AirTube.

Primary AirGap: DERAY-PBFSP.

Second line: Aluminum foil sheathing.

Secondary AirGap: DERAY-PBFSP.

Single AirTube with 'Teflon' binding.

Outer sheath: CanuFlex PE-HB.

Connections: 'Wool Rock' insulation.
If you have enjoyed 'Headphone cable', please share with friends – thank you.
Perkune – Best budget Audiophile Cables