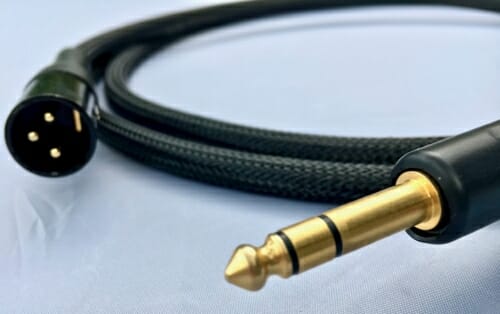 Studio cables are new. The sound in the studio just has to be perfect and the best sound possible. This is why I have selected this cable because it is neutral. And what goes in must come out with nothing added and nothing is taken away, and so a big welcome to the Studio Cables.
Studio cables are new
This is the newest model and now used 24K gold plates Jacks and low-loss, professional XLR connections. And the Cable now employs AirGap shielding and AirTube suspension. Also, I now, using Teflon binding and Aliminium foil shielding. And these additional items bring out a much better performance than the original studio cable.
Upgraded
The studio cables are updated. And, makes this cable, even better, for studio use. Fitted with XLR/standard Jack but can be configured either Mini jack connection. Or in fact, any combination RCA/ XLR/stereo jack. Also, the Studio cables can be made to any length and are suitable also for live recording and mixing applications.
Specification
Conductors: O.F.C Red Copper.

Insulation: Vinyl.
Outer sheath: Plastic shrink-wrap.
Cable Diameter: 6.0 mm.
The Conductor size: 2.5 mm2 (13 AWG).
Conductor Number: 7 strand – each strand containing 32 x 0.125 mm.
Resistance: 0.02 Ohms/meter.
Capacitance: 75 pF/meter.
To read a review from a music producer in London click here
Testimonial
Hi Paul, I think the cable is becoming at it's best. Now the sound is well balanced, crystal hi-end and fat bass I hear out of my speakers. And is way-way more handy to work with, I can place the sounds exactly where I want like never before. Also, I am going to recommend these cables to all my musician friend back in Hungary.
And I told my father about it who is an old-fashioned country musician he said it's a "hocus-pokus". I can't wait for him to visit me and run an A\B test to prove the power of these cables. And I think I have made the right decision when I purchased. I am highly satisfied with the quality of sound and your customer care. Warm regards, Matte. UK
If you have enjoyed 'Studio cables are new', please share with friends – thank you.
Perkune – Best budget Audiophile Cables