Sound Blaster AE-9 improved – At the intersection where today's cutting-edge audiophile technology meets 30 years of Sound Blaster processing experience. And, Paying homage to the audio enhancement legacy and a never-ending thirst to explore the possibilities of audio, the Sound Blaster AE-9 is quite simply the best PCI-e sound card made.

Sound Blaster AE-9
It connects the best hardware with a 129 dB DNR and 32-bit / 384 kHz playback from the hi-res ESS SABRE-class reference DAC. And, the 'Xamp' fully Discrete Headphone Bi-amplifier, together with Sound Blaster audio processing technology. The AE-9 described with a single word — pristine. And, it's not just specifications. Deep thought put into every single aspect of the product, including the launch of a brand-new feature — the CleanLine Technology, engineered from ground up to eliminate voltage rail issues and isolate noise along the mic path for crystal clear voice communications.
Control
The Audio Control Module lets you quickly control your audio settings. The sizeable multifunction control knob enables you to manage your volume and switch between headphones and speakers. Users of different headphones will enjoy the convenient knob that allows users to switch between regular headphones, high gain headphones, or in-ear monitors. The SBX button lets users turn on and off Sound Blaster processing, which the large LED display allows for easy reading of headphone or speaker volume.

Headphones
The Sound Blaster AE-9 is designed to bring out the best in any headphone. It boasts the fully discrete Xamp Headphone Bi-amplifier that amplifies each audio channel individually, delivering pristine audio in an unaltered lossless mode to each earcup regardless of demand. The Sound Blaster AE-9 works with all kinds of headphones, driving audiophile-grade headphones up to 600Ω, all the way to sensitive in-ear monitors with its ultra-low 1Ω headphone output impedance.

Quality
The Sound Blaster AE-9 is built with the absolute best components to deliver pristine, detailed audio quality that would satisfy even the most demanding audiophile. The core of the Sound Blaster AE-9 is the flagship audiophile-grade hi-res ESS SABRE-class 9038 DAC. It delivers an ultra-high DNR of 129 dB, 32-bit 384 kHz playback over PCM, DSD64, and an incredibly low Total Harmonic Distortion: -120 dB (0.0001%).
Specifications
Dynamic range: 129 dB (Stereo, DAC), 123 dB (Stereo, ACM module)
Total harmonic distortion: 0.0001% (Stereo, DAC), 0.0004% (Stereo, ACM module)
Playback resolution (DSP)
Aux and S/PDIF Input
16-bit / 44.1, 48, 88.2, 96, 192 kHz | 24-bit / 44.1, 48, 88.2, 96, 192 kHz
Headphone amplifier: Supported 16 – 600 Ohm Impedance
Connections: plug-in card
1x optical TOSLINK input, 1x optical TOSLINK output, 1x 3.5 mm rear out, 1x 3.5 mm center/sub out, 1x ACM connection, 1x 6-pin PCI Express (PCI-E) power connector (required for ACM), 2x Cinch (L/R) front output
Audio Control Module (ACM)
2x RCA (L / R), 1 x 3.5 mm Mic In (mono), 1x 3.5 mm HP output, 1x 6.3 mm HP output, 1x XLR jack
Power connection: 1 x PCI Express 6-pin (required for ACM)
Computer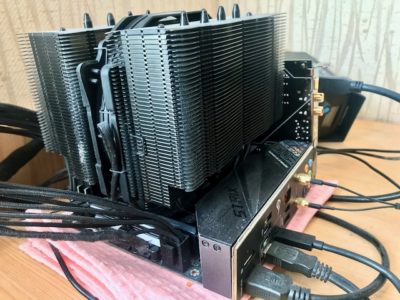 The Computer construction by Antanas Šėmis is a next-generation configuration. And it is maybe one of the best available in the industry! I met Antanas during the summer of 2020, and we have a good relationship. But it was in 2021. I discovered his passion for music, which led to seeing and hearing the music produced by his computer. And, this was no ordinary computer!
Specs
.

MB – ASUS Z390-i / CPU – i9-9900K
GPU – uses integrated to the processor UHD Graphics 630
Sound card – Creative Sound blaster AE-9
RAM – 2x32GB HyperX Predator
SD – Samsung 970 EVO Plus 1TB
Cooling – Noctua NH-D15
PSU – Corsair SF750 (platinum cert.)
Results
Even though my computer, built as a working tool, colossal importance was sound quality. I adore working and creating with good sound. I installed the audio card Creative AE-9. From all cards I tried, this was the best. And, when I told Paul what sound system I had, he was intrigued. And, thought my PC sounded good. But it gave me some extra tips on how to improve my computer as a music player. Paul wanted to compare how my PC could communicate with one of his cables. And he offered me to try the Matrix power cable. 
My curiosity got the better of me, and Paul installed the power cable. The first impression was unbelievable. I left all settings and volume the same, but now the music sounded louder, more transparent and brighter. And, the sound stage became more significant. There was a much-improved bass that was tight with greater depth. The whole room became alive with the performers. And, was hearing things I never heard before! 
Sound Blaster improved
A week passed, and Paul again visited me. And, this time had with him a two-meter Reference 2 power cable. Reference 2 is the latest Cable produced, and I am the first person to test this new Cable. It was quite a squeeze to install the power cable, nearly 20 mm in diameter, but I just managed to squeeze it into my power board. Also, I was amazed at how the power cable was built and certainly interested in hearing any changes in my sound.
The music was chosen, and I leaned back to listen. But, it was not what I expected. The music was much smoother, with more separation in the vocals and instruments. A huge Sound stage was filling my room, and I heard detail and micro details all around me. The 3D was sensational, and I was utterly stunned by what I heard. I now understand the meaning of 'removing all the garbage' from the music!
Conclusion
I would never have believed that just replacing a power cable could do so much. And, the new sound is giving me so much pleasure, I can't stop listening. Also, regarding the price, it is money well spent. And, so happy, I had the opportunity to improve my system to such an extent. Also, adding this excellent power cable has improved the Sound Blaster AE-9 and my system sound in so many ways.
Author: Antanas Šėmis, sculptor/product designer
Company: VINIE, Vilnius, Lithuania. 
Dated: 27/02/2021
If you have enjoyed 'Sound Blaster AE-9 improved', please share – thank you.
Perkune– Best budget Audiophile Cables