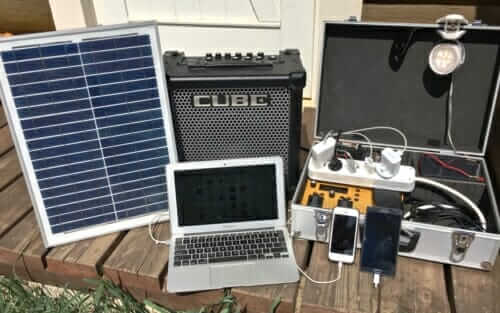 The Solar power great for audiophiles. Solar energy is something that we have been working with for the past few months. And have had some excellent results and now wish to share them with you for more information on solar power.
The Solar power great for audiophiles
I wanted to produce a portable package that was easy to use. The idea was so that a person could go anywhere with this portable solar magic package.
The package consists of a solar panel and a briefcase. The briefcase contains a battery, a transformer, a regulator and a power board. The package is very quickly put together, and the result is good clean power, from the solar magic
Portability
Today, a person is very mobile and likes to visit different places during their vacation and weekend breaks. Many people want to go camping, tenting, canoeing, hiking, road trips, boating to name but a few. And, a person always carries a mobile phone amongst other items. But, one of the problems has always been how to charge.
Another item becoming popular but can only travel a short distance. And again, because of power storage capacity. If you were able to have an adequate supply of power, where ever you were would be the answer. And, would certainly open up the possibilities for fun in the sun.
 Power
The original idea was to develop a package that could be used anywhere. It was able to supply power to drive different items but also to have a good life before a recharge was necessary. We are using a single battery, and when the solar panel removed, the battery continued to supply power.
If more storage is needed, then it can be relatively quickly done by adding another storage battery. Also, if more power is required to run more items, then all it takes is to change the power supply to a larger unit.
If a quicker charging rate is needed, then it is straightforward just to add a second solar panel to the system. But, it all depends on how quickly you want to charge the batteries. We found that a single meeting with a single battery took about five hours to set. And, a single battery with two panels took only two hours to charge.
Cost
The cost of the package is a factor that is dependent on the application and how long the system will be used. If you imagine that you could use the primary method for say five years, then the cost of a basic system works out to just a few pennies a day.
Good clean power is one thing that an audiophile is always trying to get. But, to get good clean energy can cost a large amount of money. An audiophile knows how much better the sound will be. And, now we have the option of Solar magic.
The picture above shows how power is supplying two items. The amplifier and the CD player. Both, of which is being provided from the battery and the solar panel. When the Solar panel is disconnected, the system will run for just over three hours, which was a perfect time. And, this could quite easily be doubled by the addition of another battery.
The recharge time was two and a half hours because the sun had a different strength on the day we were testing. I will say a few more things about the sound because it is a noticeable difference. Everything you hear is better and smoother and has no rough edges. And, now we have a way to make our audio system sound better. And, fitted into your existing system. Also, it can be taken on a road trip and used to give you power anywhere you want. So many possibilities and all from the sun!
Customer contact
Perkune – Best budget Audiophile Cables