The Reference 'Silver' RCA interconnect cable has been added to the range of audio cables and offers a solution for people who prefer the sound from a silver cable opposed to the sound from a copper cable. Silver is 6% more conductive than copper, but due to cost, it is not practical in most cases. However, used in specialized equipment, and as a thin plating to mitigate skin effect losses at high frequencies. To keep costs down the Reference 'Silver', RCA interconnects cable made from OFC and plated with silver.
Reference 'Sliver' RCA
High electrical and thermal conductivity is common to the elements in group 11 because their single s electron is free and does not interact with the filled d subshell. The electrical conductivity of silver is the greatest of all metals, more excellent even than copper, but not widely used for this property because of the higher cost. Silver plating improves electrical conductivity because those currents tend to flow on the surface of conductors rather than through the interior. Pure silver has the highest thermal conductivity of any metal, and also the lowest contact resistance of any metal.
Copper cabling
Twisted pair copper cabling is the most popular network cable and used in data networks for short and medium-length connections. And, is due to its relatively lower costs compared to optical fibre and coaxial cable.
Oxygen-free copper 
A group of wrought high conductivity copper alloys, electrolytically refined. And, so, reducing the level of oxygen to 0.001% or below. OFC is the acceptable component for allowing coverage by silver and other metals for increased performance. UTP cables include: Category 3 cable, now the minimum requirement by the FCC (USA) for every telephone connection; Category 5e cable, 100-MHz enhanced pairs for running Gigabit Ethernet (1000Base-T); and Category 6 cable, where each runs 250 MHz for improved 1000Base-T performance.
Conductors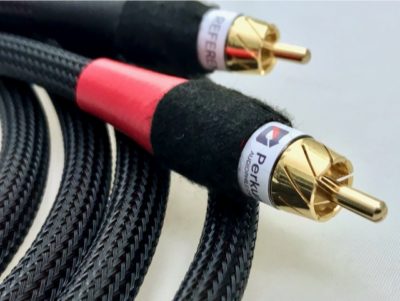 The silver-coated conductors, containing 18 x 0.12 mm OFC 99.7% transmit the musical information precisely. And, enable crystal clear, transparent and dynamic sound. Also, the robust 24-carat gold-plated contacts ensure optimum contact, offering minimal contact resistance providing a cleaner musical presentation. The Connectors made from brass, with gold plated electrical connection posts in each.
Anti-static 
is a killer when it comes to audio and the effect static it has on audio performance. And, to help prevent the build-up of static charge, The cable is fitted with two Anti-static pads. Anti-static fluid sprayed over the audio cable pads and equipment, will disperse existing static, as well as inhibit future accumulation. The effects are easily heard, with a dramatic increase in performance.
Performance
Performance of the Reference 'Silver' RCA Interconnect cable is outstanding. Image positioning and transparency are razor-sharp and spot-on. And, the feeling of air and space is in another league. Every detail revealed and the echoes and after echoes are right there in the correct position. And, as a result, brings an even higher level of excitement to your listening experience! 
Specification
Cable Dia: 10.0 mm.
Cable length: 1 .5 meters.
Composition: Silver-plated OFC 99.9%.
Conductors: 2 ( containing 18 x 0.12 mm strands).
Shield: 1 x 100% Tinned copper braid.
Resistance: 0.006 Ohms/meter.
Capacitance: 45 pF/meter.
Primary AirGap: DERAY-PBFSP.
Insulation: PTFE, PVC and felt.
Secondary AirGap: DERAY-PBFSP.
Outer sheath: CanuFlex PE-HB.
Anti-static pads: 2 per cable.
Customer testimonials
Pricing
1.5 Meter Silver – RCA/RCA connection 987 Euros
If you have enjoyed reading, 'Reference 'Sliver' RCA interconnect', please share – thank you.
Perkune – Best budget Audiophile Cables