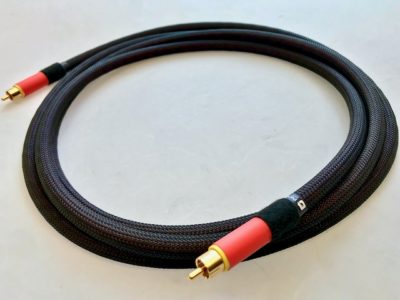 Reference RCA subwoofer cable, for audiophiles, interested in the best bass sound for their audio system. And home cinema applications. A subwoofer (or sub) is a loudspeaker designed to reproduce low-pitched audio frequencies known as bass/sub-bass. And lower in frequency than those which can be (optimally) generated by a woofer. The typical frequency range for a subwoofer is about 20–200 Hz for consumer products. And below 100 Hz for professional live sound. Also, below 80 Hz in THX-certified systems. Subwoofers are never used alone and intended to augment the low-frequency range of loudspeakers covering higher frequency bands.

Reference RCA subwoofer cable
The Reference RCA subwoofer cable uses two separately routed shields. Meaning, audio data is optimally protected from external interference—the digital music signal, precisely transmitted and perfectly adapted 75-ohms impedance construction. Also, the Reference RCA subwoofer cable offers natural and dynamic sound for high-resolution audio formats. Solid 24-carat, gold-plated metal connectors ensure maximum contact and minimal contact resistance, guaranteeing optimum performance.
Reference S cable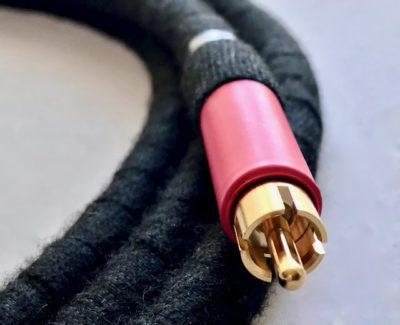 The Reference S subwoofer RCA cable introduced June 2021. And the next generation fo performance increase all people seek in a home cinema system. The addition of the extra Anti-static isolation material has given just that bit extra in allowing the system to operater better. And able to allow low frequencies heard that were unheard before. And, a new sense of feeling is apparent.
Noise
Noise is a problem. And to reduce noise and protect the signal path from any external interference, a solution created. Perkune audiophile cables employ double-layer 'AirGap' shielding. Also, Dual-layer Teflon isolation, Dual-Vinyl insulation, and PE insulation. And, to reduce static, the cable is fitted with two Anti-static pads. All of this helps reduce noise, vibrations and interference from effecting the low frequencies in your music.
Performance
The Reference RCA subwoofer cable offers top-level performance exceeding all expectations. And, you will be aware of perfect bass positioning and a sense of realism. The Reference S subwoofer cables sound reaches new depth and exhibits sensitivity and passion. And has a feeling of making you want to hide and protect yourself. Also, the centre of impact explosions and sense of you there is a new experience. 
Specification
Cable size: 11.0 -12.0mm
Type: Coaxial (low Jitter)
Connectors: Solid metal (24K gold plated)
Conductor: Solid core OFC/HP (20 AWG)
Resistance: 75 Ohm
Braided shielding 100%
Insulation: Compact PE (Low loss)
Sheathing: Textile Jacket
Shielding: Aluminium Foil (100% coverage)
Secondary sheath (AirGap): DERAY-PBFSP
Insulation: Teflon (Dual layer)
Secondary Insulation: PVC (Dual layer)
Outer sheath: CanuFlex PE-HB 
Anti-static pads x 2
Antistatic isolation material
Customer testimonials
Pricing
1.5 Meter RCA cable 797 Euros
3.0 Meter RCA cable 997 Euros
Cinema package
If you have enjoyed, 'Reference RCA subwoofer cable', please share friends – thank you.
 Perkune  – Best budget Audiophile Cables