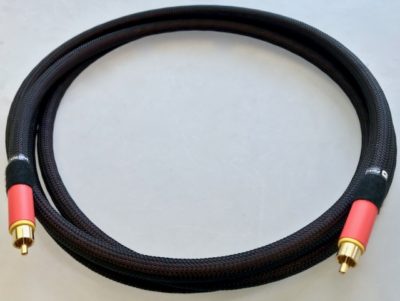 The Reference RCA Digital cable is must for the serious audiophile to obtain the best performance possible. And, will bring the best from your audio system. 
The Reference RCA Digital cable, is the latest version and best sounding you will hear. Because of  technology development, attention to detail and highest manufacturing quality.
Reference Design
The Reference, having two separately routed shields. Meaning, sensitive audio data is optimally protected from external interference. The digital music signal, precisely transmitted, and perfectly adapted 75-ohms impedance (Low Jitter) construction. And, give a completely neutral indication, with utmost in transparency. The Reference RCA Digital offers natural and dynamic sound for high-resolution audio formats. Solid 24-carat, gold-plated metal connectors ensure maximum contact and minimal contact resistance guaranteeing optimum performance.
Reference Noise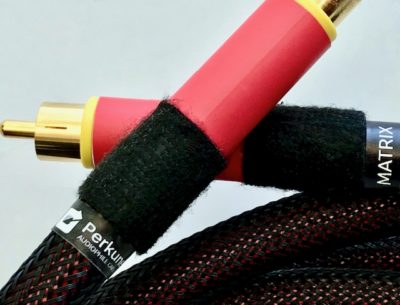 To reduce noise, and protect the signal path from any external interference, Perkune audiophile cables, employ double-layer shielding. Dual-layer Teflon isolation, Dual-Vinyl insulation, 'AirGap' technology and PE insulation. Also to reduce static the cable is fitted with two Anti-static pads, All of which help to Reduce noise, vibrations and interference.
Reference Performance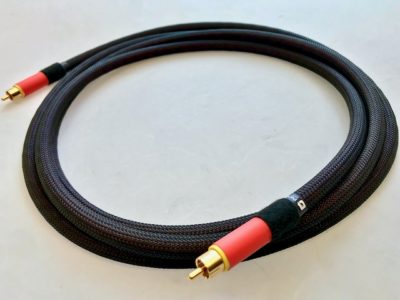 The Reference RCA Digital is made in 1.5 and 3.0-meter lengths and designed to suit any digital application. And, made flexible, easy to handle, and with the strength necessary for the modern audiophile. Digital data transfer demands precise impedance matching in both cable and connectors. The Reference RCA Digital cable is optimised for digital signal transfer and use a silver-plated OFC high purity solid core conductor. An exact 75 Ohm signal path which answers the demand for the precise tolerance needed for clocking and dealing with digital output.
The result is an ultra-high-speed, low-loss cable specifically designed to deliver the best possible performance from today's high-resolution digital audio sources. They may only be "ones" and "zeros", but low impedance matching and an 'impure' cable have a dramatic impact on the accuracy with signal speed and transfer from one device to another.
Cable information
IMPEDANCE (75 OHMS) – The wave resistance, or impedance, is an important key figure for cables, calculated from the ratio of inductivity to capacity.
INDUCTIVITY – A conductor flowed through; forms a magnetic field around it. If the flow of current changes, the strength of the magnetic field also changes. And, in turn, results in an inductive current which counteracts the evolution of current in the conductor. A frequency-dependent resistance develops (also called inductive resistance) which harms the transmission. Unique designs reduce the inductivity of a cable.
INSULATION (DIELECTRIC) – The conductors are covered in a non-conductive material to protect against short circuits, corrosion and damage. However, because these materials store energy (capacitance), which is undesirable in audio and video cables
JITTER – When serially transmitting A/V data, "one" and different impulse durations code "zero". Cable properties affect these impulse durations so that the data is not received correctly. In the case of pronounced jitters, the D/A converter has to frequently correct the error, and consequently the quality of playback for pictures and sound suffers.
OFC COPPER – The transmission of picture and sound signals is highly complex and susceptible to interference. Any contamination in the conductor material prevents the flow of current, impairing the conductance and increasing the background noise. Therefore, only especially pure-grade, oxygen-free copper (OFC) with exceptionally high conductance.
POLYETHYLENE – PE is a high-quality insulating material (dielectric) which is ideal as an insulator. It reduces the capacitance of a cable by a factor of two compared with PVC (polyvinylchloride). The electrical loss of PE is low.
Specification
Cable size: 11.0 mm
Type: Coaxial (low Jitter)
Connectors: Solid metal (24K gold plated)
Conductor: Solid core OFC/HP (20 AWG)
Resistance: 75 Ohm
Braided shielding 100%
Insulation: Compact PE (Low loss)
Sheathing: Textile Jacket
Shielding: Aluminium Foil (100% coverage)
Secondary sheath (AirGap): DERAY-PBFSP
Insulation: Teflon (Dual layer)
Secondary Insulation: PVC (Dual layer)
Outer sheath: CanuFlex PE-HB 
Anti-static pads x 2
Pricing
1.5 Meter – Digital cable 797 Euros
3.0 Meter – Digital cable 997 Euros
Matrix cables
Customer testimonials
If you have enjoyed, 'Matrix Reference RCA Digital cable', please share friends – thank you.
Perkune Best Audiophile Cables