The Reference PRO power cable introduced November 2021, the best performance upgrade you could imagine. And we all know just how the electricity network in our homes exposes various Interference. For example, radio frequency interference (RFI) and electromagnetic Interference (EMI). Also, appliances connecting to the same network, such as refrigerators, air conditioners, and computers. But, to help combat this unwanted intervention I intervened. And constructed the Reference PRO Power cable with Rhodium/Carbon fibre connectors. The results are extremely fine resolution down and through the noise floor. Improved sound staging and image positioning. A more musical, attractive, smooth midrange. And a tight controlled bass, plus power and dynamics to set your music on fire. The Reference 'PRO' power cable is the answer to every audiophiles prayers.
PRO Clamping
The Reference PRO power cable being two meters in length has a certain weight. And to help ensure stability and contact the cable is attached to the connections and secured by FOUR clamping screws.
The clamping screws provide safety and complete reliability. Another important development is an additional internal protection shield. And the Power cable connectors are fitted on such a way as to act as a barrier. And this barrier provides extra production against RFI and EFI.
Reference PRO

power cable
The EU, and US connections are Rhodium/Carbon fiber connections. And as a result, the IEC connector provides perfect conductivity. Also, Rhodium-plated pins are employed as they do not oxidise. And offer greater longevity and better signal contact. The connectors have a secondary inner sleeve adding to reduction of RFI and EFI. The power plug marked with red spot on the positive or 'Power' side for easy installation.
PRO performance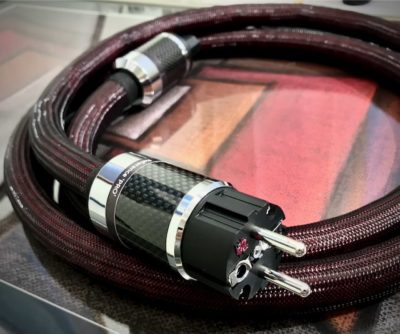 The Reference PRO power cable allows a relaxed and more opulent sound. And designed to bring you the ultimate listening experience. Also, with the Reference PRO you will hear the difference in your music during the first seconds. After that, the Sound-stage becomes vast, Imaging and focus become razor-sharp and spot-on. The Bass is more profound, tighter, having more energy and expression. And detail and micro details become more apparent, bringing you a rich and satisfying experience. And, I think the phrase 'flowing like liquid gold' brings the music into a reality!
Power Cable protection 
I have focused on factors crucial for developing an excellent Interconnect cable. And offer the perfect solution for protecting your cable. Also to keep them protected during transit and whilst in storage.
The aluminium flight case supplied with your cables contains; Anti-static spray, Anti-vibration tubes, and test certificates. Which are signed, dated, and carry the cable identification numbers. And this information is necessary for proof of authenticity. Helping you with cable resale and upgrades.
Specification ~
Cable size:  21 mm
Length: 2 or 3  Meters
Multi-stranded, ultra-high purity 99.9999% OFC
Conductors size: 3 x 3.0 mm2 (10 AWG)
HDPE dialectics for each conductor x 3
Protective conductor – Pure copper (class 1)
3-level shielding: pure braided copper 
Tripple shielding: CanuFlex/PTFE
Cable weight: 1.5 Kg
Voltage: 300-500 volts
Test voltage: 2000 volts
Temperature: -40 to +70 C
Resistance: 0.001 Ohms/meter
Insulation: Teflon PTFE x 2 
Three level AirGap: DERAY-PBFSP
Anti-static pads (ATS) fitted (2 per cable)
Connectors: Four clamp screws
Reference cables: Slimline/XLR/Power
Speaker cables: Matrix  
Customer: testimonials
Pricing
2.0 Meter Reference Power cable 2497 Euros
3.0 Meter Reference Power cable 2997 Euros
If you have enjoyed reading 'Reference PRO power cable', please share with friends and colleagues – thank you.
  Pekune- Best Audiophile Cables Online