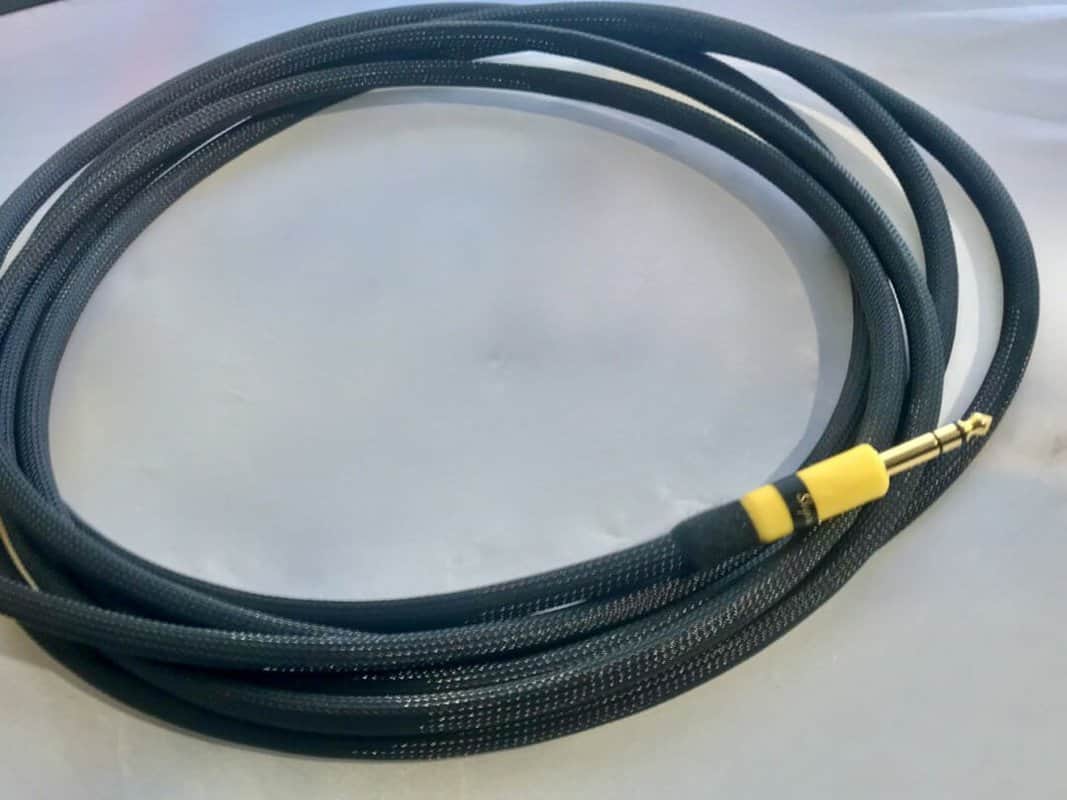 The Reference headphone cable has a highly complex, dual symmetrical structure. In conjunction with the very densely woven shielding protects the intricate audio signals. Optimally against external interference emitted from smartphones or other electrical devices, for instance. The Reference headphone cable is an extension and will improve your sound from your existing headphones.
Reference headphone cable
The silver-plated conductors transmit the analogue music signal precisely and enable exceptionally crystal clear and dynamic sound.  Even for high-resolution audio formats. The 24-carat gold-plated contacts ensure optimum contact. And, minimal transition resistance for low-loss transmission of the music signal.
Performance
The Reference headphone cable is beautiful. And, also, an extension cable with a length of five-meters. Assembled with silver-plated, oxygen-free multi-core conductors, 'Airgap' technology, and aluminium foil shielding. These techniques significantly reduce interference from other components and cabling. Therefore, increased signal speeds and signal accuracy in transfer, become apparent in the musical presentation.
The Reference headphone cable, must not be confused with a standard extension cable because the cable provides an entirely natural and articulated performance from existing headphones. And, as a result, the sound heard is an improvement in contrast to the original headphone cable extension.
System
An audio system is only as good as the weakest link. And, in this case, the weakest link is the supplied headphone cable extension. Consequently, by replacing the headphone cable, we remove the lowest link. And, an improved sound from the audio system.
Termination is by 24k gold-plated 6.3mm stereo male and female jacks. And, ideal for all domestic and professional applications. After construction, the cables are 'burned' in using a unique technique. And, as a result, the cable allows, the full potential of the source heard without waiting for a burn-in period.
Specification
Double symmetrical design

Braided shielding

Low-loss PE insulation

Silver-plated conductors

24c gold-plated contacts

High-purity OFC copper.

Primary and Secondary AirGap: DERAY-PBFSP

Aluminium Foil sheathing

Single AirTube with 'Teflon' binding 

Outer sheath: Double layers CanuFlex PE-HB

Anti-static pads (ATS) fitted (2 per cable)
Customer testimonials
Pricing
3.0 meter Headphone extension 697 Euros
5.0 meter Headphone cable 797 Euros
If you have enjoyed 'Reference headphone cable', please share with friends – thank you.
Perkune – Best budget Audiophile Cables