The Matrix PRO Interconnect cable is another step up in audio quality. Also, the Matrix PRO interconnect cable offers superior dynamic performance. And designed to match perfectly with the existing Matrix loudspeaker cables and Matrix power cables. Also, you are listening to more dynamics and detail than ever before. The Matrix PRO interconnect cable, assembled using dual 'AirGap' isolation and three-level external Anti-static isolation material. Really is a beautiful sounding cable.
Matrix PRO interconnect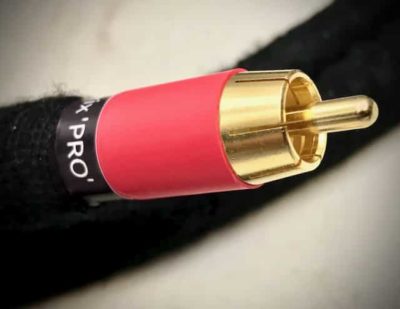 The Matrix PRO interconnect – The connections fitted are the latest 'NextGen' 24K gold plated contacts, allowing for the perfect signal speed and transmission. Meaning, whatever the source signal is, you will receive precisely the same. And nothing is added or subtracted from the original musical signal.
The connectors are top of the line for an RCA type connection. And the Matrix PRO connectors are rugged and impact resistant, providing many years of service.  The Matrix PRO interconnect cable is sold with a life time guarantee, and if anything happens to your cable it will be replaced.
Performance
The performance of the Matrix PRO interconnect is first class for an RCA cable and allows the full spectrum of the audio signal heard. And what you hear is the depth of the music fully reproduced.
Cable testing between the RCA version and XLR version shows only minute differences in musical performance. A person must hear the Matrix PRO interconnect cable be aware of the subtle changes a person can understand. Of course, balanced audio is preferable, but when you have a cable sounding so close, you realise what an achievement the line of cable is!
Specification
The Cable size: 12.0 mm
Cable length: 1 – 2 Meters
Conductors: Single core, High-purity 0.9997 OFC 
The conductor size: 17 AWG
Resistance: 0.19 Ohm/meter
Capacitance: 57pF/meter
Impedance: 75 Ohms
Shielding: Aluminium foil
Insulation: PVC/PTFE
Low-loss PE with PVC Jacket
Outer sheath:  PTFE
Antistatic: static compound three level 
Covering: KanuFlex braiding
Pricing
2 x 1.0 Meter – RCA/RCA connection 697 Euros
1.5 Meter – RCA/RCA connection 797 Euros
2 x 2.0 Meter – RCA/RCA connection 897 Euros
If you have enjoyed reading 'The Matrix PRO Interconnect cable', please share with friends – Thank you.
Perkune Best budget Audiophile Cables