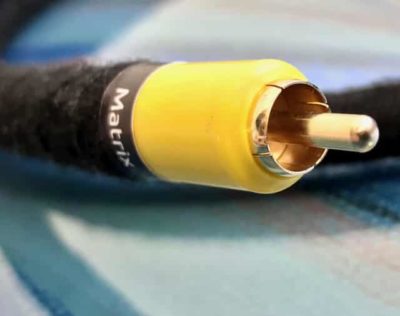 The Matrix digital cable is essential for the serious audiophile. And, the cable has two separately routed shields. Meaning, sensitive audio data is optimally protected from external interference. Also, the digital music signal, precisely transmitted through the conductors. And perfectly adapted impedance (Low Jitter). Enabling a very natural and dynamic sound for high-resolution audio formats. Also, the solid 24-carat, gold-plated metal connectors ensure maximum contact and minimal contact resistance.
Matrix Digital cable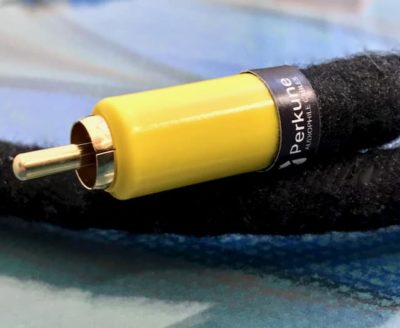 The best digitial cable is the one that loses the least of the original signal. And this is precisely what Perkune audiophile cables do. Also, audio cables act as antennae and attract external interference signals. These physical phenomena that occur when transmitting signals for instance, crackling from loudspeakers when a smartphone is searching for a network. And can only be minimised with technical finesse and finest materials. Perkune audiophile cables have developed a unique design that allows its cables to surpass industry standards. And to reduce noise, and protect the signal path from any external interference. Also, Perkune employs Dual-layer, Aluminium foil shielding and Dual-layer Teflon isolation. As well as, Dual-layer Vinyl insulation, Dual 'AirGap' technology and PE insulation (Dielectric) reduction.
Matrix Performance
Digital data transfer demands precise impedance matching in both cable and connectors. The 'Matrix' cables are optimised for digital signal transfer and use a silver-plated OFC high purity solid core conductor. In the S/PIDF cable, the technology is combined with combination RCA connectors. And provide an exact 75 Ohm signal path. Which answers the demand for the precise tolerance needed for clocking and dealing with digital output. And the result is an ultra-high-speed, low-loss cable specifically designed to deliver the best possible performance from today's high-resolution digital audio sources. They may only be "ones" and "zeros", but poor impedance matching has a dramatic impact on the accuracy. 
Subwoofer Cable
The Matrix Digital cable can also be used as a subwoofer cable. And subwoofer (or sub) is a loudspeaker designed to reproduce low-pitched audio frequencies known as bass/sub-bass. Also, lower in frequency than those which can be (optimally) generated by a woofer. The typical frequency range for a subwoofer is about 20–200 Hz for consumer products. And below 100 Hz for professional live sound. Also, below 80 Hz in THX-certified systems. Subwoofers are never used alone and intended to augment the low-frequency range of loudspeakers covering higher frequency bands.
Specification
Cable size: 11.0 mm
Conductors: Solid core
Conductor size: 20 AWG
Conductors made of high-purity OFC copper
24K gold-plated contacts
Resistance: 75 Ohm
Braided shielding
Insulation: Compact PE
Secondary sheath (AirGap): DERAY-PBFSP
Secondary Insulation: Teflon 
Bandwidth 3GHz
Full HD 1080p
HDCP compatible
RoHS compliant
Customer testimonials
Pricing
1.0 Meter Digital cable 397 Euros
2.0 Meter Digital cable 497 Euros
3.0 Meter Digital cable 597 Euros
If you have enjoyed, 'The Matrix Digital cable', please share with friends  – thank you
Perkune Best budget Audiophile Cables