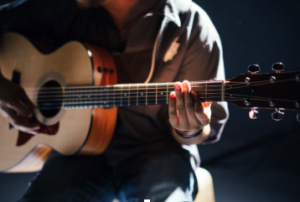 My cousin (who is 34) came over for a visit last week. With him was an old guitar and asked if I could show him how to tune it – so I decided to write this how to play the guitar online blog so I could help others ~
He then told me he wanted to learn to play this guitar and could I help him, I said certainly and will have you playing in less than an hour. We started and I really enjoyed it and my cousin said you are so good the way you teach!
After 45 minutes he stood up and said I am going to show the girls. He raced down the stairs and said to the girls listen to this – And he played a very simple phrase which is called a 12 bar sequence in E (E is so easy for a beginner) The girls clapped and just could not believe what they had seen and heard!
My cousin told me there were so many people wanting to learn to play I should go and teach! Today, I was thinking about what he said and thought that was a really good idea and now as we have Skype it could work. I looked online and found many teachers and the price all around $60 – $80 per hour and if you bought more lessons then down to $50
I can teach people to learn how to play the guitar online and I will do it FREE. I love what I do and I love to share. I also love to help and at the same time have fun!
I am also offering a 'system set up' service again using Skype. This service is also free and if you are interested to read more about this service then please click here
I you have enjoyed reading this 'how to play the guitar online' blog please share with friends by using the share button below – I thank you very much – Paul Goodwin.