How to improve sound, or rather I should say your system sound. An audio system can look great, especially when placed in a correctly treated listening room. Because of the care taken to make it look so good, one would assume that it certainly would sound the best that it could. But, this is where so many people fall. And I want to share with you this story.
Improve sound
I have been working with audio all my life, but it was only five years ago that I decided to concentrate on audio cables. And it was a power cable that I started my business. A power cable is the building block on which to build your audio system, and you may be interested in reading about this power cord because this was the start of it all!
I can walk into a room and hear if something does not sound as it should. And I can do this very quickly. Because I have listened to hundreds of audio systems over the years, it has become like second nature to me. And, so I would like to share this latest experience with you.
The system
The system shown in the picture was in service and sounded very good as I entered the listening room. But after just a few seconds I could hear that The system lacked dynamics and seemed a touch on the lazy side! The soundstage was certainly not what it was supposed to be for Monoblocks, and so I spoke with my friend and suggested that we fit a pair of 1.5-meter power cables.
My friend looked at me and said we could if you think it will sound better. I opened my case and took out two power cables and fitted one to each mono-block—the Mono-blocks, made by Audio Frontiers and are the Reference 845 SE costing around 29,000 Euros. So when spending that amount of money on amplifiers, why only spend a few hundred on power cables and expect the amps to be correct? The Power cables worked, and the result was immediately noticeable. The soundstage was much larger with better positioning of the instruments. And, there was a life and energy in the music and the first step to improve your sound!
Improvement
I was delighted with the improvements as was my friend, but I said now we have to position the speakers to get the bass better. My friend asked what I meant to which I replied the bass is lacking in the lower frequencies and you have a hole in the middle! My friend said, OK, what do we do. The first thing is to move the listening couch forward about a meter. And then we site and tow in the loudspeakers until they are looking directly back at us. If you look at the first picture, you will see the speakers are pulling outwards. Also, you will see we are sitting a meter back. When we moved the listening couch forward, we had to adjust the speakers by towing them in. Which, can be seen quite easily by comparing the pictures.
Results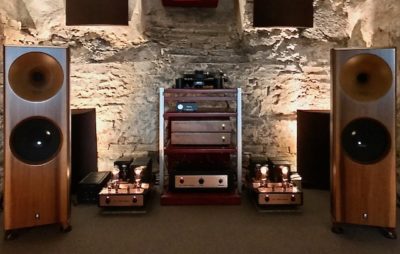 My friend and I sat down in the listening position, and the music played. And we both looked at each other and smiled. The music sounded so different than when I first arrived, and we both agreed 100% on the difference we now heard.
It was like the 'Icing on the cake' with new details appearing and an incredible tight deep bass that we felt through the couch! My friend was delighted with his unique sound, as was I. And, so kept the new cables and the new experience of fine-tuning his audio system.
Conclusion
The listing session took about an hour in total, and an experience it had been. I love the sound of the 845 tubes but loved the sound even more after the session. What a vast improvement it had made by just changing the power cables and repositioning a couple of centimetres. And, the only cost was a few hundred Euros to bring the system up to the level where you want to do nothing else but sit and listen!
Customer testimonials
If you have enjoyed 'How to improve your sound', please share with others – thank you.
Perkune – Best budget Audiophile Cables