Bass or rather lack of it has always been a problem in the audiophile world. In most cases it is hard to get the correct amount of bass and the way that you want your system to sound.
How to improve the bass
The Tannoy Edinburgh is the subject of much discussion and so I have written this blog How to improve the bass  to share my findings and hopefully it will help.
Tannoy Loudspeakers
I have owned many models of Tannoy from the Berkeley, Arden, SRMx15, Turnberry, Glenair, Edinburgh, GRF's, Kensington and others. I have listened to other Tannoy loudspeaker systems and everyone is different and has their own sound.
The driver ~3149
This is the Tannoy "pepperpot" 3149 12″ driver with Alinco magnets. This was the driver that was fitted to the Edinburgh enclosures. The Tannoy driver came with a crossover that was first order HF and first order LF and set to crossover at 1200 Hz. The driver had a frequency response of 28 Hz to 25Khz and a sensitivity of 94db.
Crossover
I felt the Tannoy crossover that came with the Edinburgh was not up to par and it would not allow the enclosures the response in the way that I wanted. I decided to look for a replacement crossover and this is my story of how to improve the bass.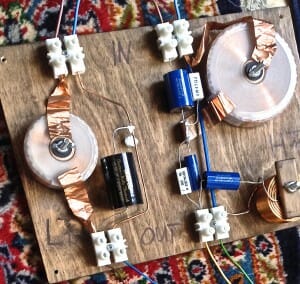 The first crossover I found was build by enthusiast who lived in Rumania. The crossover was hand built, used top of the range components and crossed over at about 1K. I had several emails with the owner who was able to answer all my questions perfectly as he had great knowledge in this field. The crossover arrived and I connected it up and sat down to listen. Unfortunately the crossover did not make any bass improvement so my search continued.
The second crossover was build for me by a Tannoy expert who lived in London. Again we shared many emails and it took over a month before the crossover finally arrived.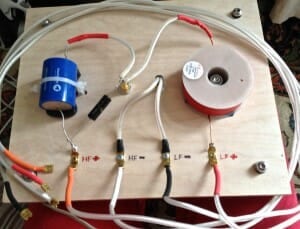 The components used were "Best of the best". The Capacitors were from ClarityCaps and Inductors from Mundorf. The crossover frequency was set at 1.2K. Cabling was pure silver and mounting board was hardwood. When I connected this crossover I had a big shock because the difference really made a big impression. There  was more air to the presentation and the range expanded. But even though the bass had improved I still wanted more!
The third crossover was from the Tannoy professional series with a frequency set to 1.3K and supplied by "Mainly Tannoy" from Hampshire in the United Kingdom.