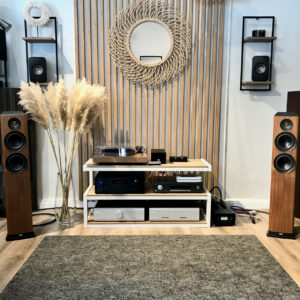 Today I am writing the ELAC Vela review article. I MUST SHARE IT WITH EVERYONE because I am so impressed with the sound. I was visiting my friend Lukas because I wanted to buy some new headphones. And as I entered his premises, I heard the beautiful voice of Diana Krall coming from the adjoining room.
I said Hello to Lukas, and that sounded fantastic. And I want to hear more. So, what system are you using? Lukas replied with a smile and said, "Let me put the coffee on". It seemed like forever waiting for the coffee to arrive, but it was well worth the wait because it tasted so good. So tell me what you are using because I love the sound.
ELAC Vela – VFS407
A complex design: high-class lacquered and wooden veneered cabinets with a trapezoid shape and angled rearward. And the design catches the eyes but conducts acoustics, too. Also, the sound of VELA shows its family background to the successful series 400. But the advantages are distinct. The angling of the cabinet, in combination with the new waveguide of the JET tweeter, improves the definition of stereo. But there are more than the noticeable changes. For example, the optimed drivers can reproduce high-energy transients more precisely.
Specifications
Type:

2 1/2-way, bass reflex

Woofer: 2 x 150 mm Ø, AS-XR Cone
Midrange: 150 mm Ø, AS-XR Cone
Tweeter: JET 5
Crossover Frequency: 450 | 2400Hz
Frequency Range: 

30-50000 hZ

Sensitivity: 88 dB at 2,83 V/m
Suitable for amplifiers: 4 – 8 Ω
Recommended Amplifier Power: 40 – 300 W/channel
Nominal | Peak Power Handling: 130 W | 170 W
Nominal | Minimum Impedance: 4 Ω | 3,5Ω at 200 Hz
Finishes: Black High Gloss, White High Gloss, Walnut High Gloss
Accessories Included: Plate with Spikes and Washer
Optional Accessory: Speaker Grilles
Height x Width x Depth: 1000 x 229 x 266 mm
Weight: 19,1kg
Touch of history
With a change of CEO in 2017 and Andrew Jones joining Director of R&D Rolf Janke, the brand has a new lease of life. And makes a dizzying range of speakers, including the Jones-designed Adante. And also the Navis ranges developed in the USA. Also, the German Vela series with its iconic JET tweeter.
Retained from its predecessor is the JET 5 planar tweeter – the highlight of this loudspeaker. It uses a light, folded foil membrane and neodymium magnets to produce an extended frequency response up to 50kHz. And matched to a pair of conventional moving-coil drivers, 150mm in diameter, with large roll surrounds and cast aluminium baskets.
In a two-and-a-half-way design, the upper midrange unit takes over from the treble unit at 2.4 kHz. And the lower bass driver kicks in at 450 Hz. As for the cones, these are made using an aluminium-sandwich technology folded to resemble a large crystal. And delivers stiffness with relatively low mass and good self-damping properties.
Convex baffle
The cabinet's convex-shaped baffle extends down to an alloy bottom plate, which has an aperture for the down-firing bass reflex port. This fits into a die-cast plinth that confers impressive stability. ELAC says that the rearward angling of the speaker's trapezoidal shape, alongside the JET tweeter's new waveguide, improves stereo image accuracy.
The speaker is supplied with a fabric grille over a wooden frame, attached by magnets hidden beneath the cabinet's front baffle. And this pretty-looking yet sturdy product is topped off by an inset aluminium plate. With black anodised to match the choice of gloss black, white or walnut cabinets.
Conventional
Conventional loudspeaker diaphragms – cone, dome or planar – move back and forth along the axis that radiates sound. The air motion transformer (AMT), patented by German engineer Dr Oskar Heil in 1973, operates quite differently. Pleated like an accordion, it squeezes the air from its crevasses. Thin aluminium strips bonded to the diaphragm carry the signal current and generate the squeezing motion. In much the same way as a conventional voice coil by interacting with a static magnetic field. Oscar Heil conceived AMTs that worked at bass frequencies, and his ideas were exploited in Tympany's compact LAT subwoofer, now discontinued. 
But most AMT drivers today are tweeters, where a resurgence of interest in the technology is evident in ELAC's JET tweeter. And the extensive range of AMT tweeters – including dipole models – now sold by Mundorf. Claimed advantages are a total radiating area many times greater than an equivalently sized dome tweeter. Which benefits power handling and distortion performance, and a resistive impedance which simplifies crossover design. Also, the third highlight of this loudspeaker is its excellent detail retrieval. And the Vela FS 407 had an uncanny ability to scythe through the mush to reproduce the music in a vibrant, living and breathing form. ELAC Vela review
Listening
Our coffee finished, and now time to do some testing, as this is the fun part of my visits to Garso Namai, Kauno g. 31, Vilnius, Lithuania. Lukas had picked a selection of music for us to listen to. But today, I will keep this short because, for every track we played, the sound flowed from these great-sounding loudspeakers (fed with melodic cables), like warm lava from a volcano. And the depth these enclosures could reach is nothing short of a miracle. We both were amazed at this feature, as the depth also had a real natural feeling.
The soundstage was equal to anything we heard in the listening room this year. And the vocal quality again was top-notch. The details presented as living in the air were everywhere you would expect, with perfect tonal quality. And the feeling of space and energy was excellent. The loudspeakers revealed a more extensive musical presentation than you could imagine, with the music all around us. But, again, we were on the stage and loved the fantastic experience.
ELAC Vela review
This session has been the best this year, and I am so pleased I was looking for a pair of headphones. Also, ELAC has excelled in making these loudspeakers sound the way they do. And able to have the music appear so large from such a small speaker enclosure. BRAVO in every sense of the word! If you have enjoyed reading "ELAC Vela review", please share with friends and colleuges – thank you.
Author: Tommy Blinder, music producer, Vilnius, Lithuania

Dated: 19/04/2023
Perkune I Best professional audio service