Another exciting day, because I was able to hear the latest Denon AVC-X3700H tested home cinema AV amplifier. Which, has prompted me to write this 'Denon AVC-X3700H and silver cables article. This 9.2 channel 8K AV Amplifier with 180W per channel fully supports Dolby Atmos, Dolby Atmos Height Virtualization Technology, DTS:X, DTS Virtual:X and IMAX Enhanced, as well as the latest HDMI specifications such as 8K/60Hz, 4K/120Hz** pass-through, VRR, ALLM, Dynamic HDR, HDR10+ and eARC support. 

Denon AVC-X3700H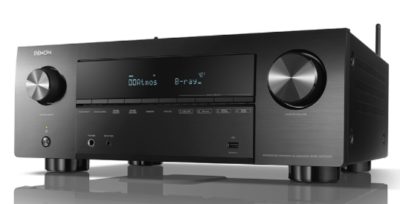 The AVC-X3700H delivers the ultimate home theatre experience with 8K/60Hz pass-through and upscaling 4K/120Hz** pass-through for gaming, and support for the latest HDMI specifications. The new AVC-X3700H lets you build the best 4K home theatre today and gives you the comfort of knowing that your AV amplifier is 8K ready when you are. Enjoy the highest quality 3D audio and video for even the most demanding entertainment needs.
Overview
Immerse yourself in high-power home theatre entertainment. With 180W per channel, the Denon AVC-X3700H delivers a truly immersive 3D audio experience. And, offers Dolby Atmos, DTS:X, and IMAX Enhanced. The discretely built, nine-channel amplifier section features two heat sinks. A robust power supply, delivering the renowned Denon sound. The AVC-X3700H supports the latest HDMI video technologies such as 8K/60Hz and 4K/120Hz** pass-through. Also, Dolby Vision, HDR10, HDR10+, Dynamic HDR, HLG, as well as 8K upscaling and HDCP 2.3 support on all HDMI inputs (7 in/3 out).
Stream popular music services like Spotify, TuneIn Internet Radio, Amazon Music HD, TIDAL and more. Wirelessly via Bluetooth, Apple AirPlay 2 and Wi-Fi with HEOS Built-in. Enjoy your MP3 collection and even Hi-Res audio formats (WAV, FLAC, ALAC and DSD 2.8/5.6 MHz files) via USB or Network. The Denon AVC-X3700H works with Amazon Alexa, Google Assistant and Apple Siri for effortless voice control.
By visually guiding you through each step in the setup process, the award-winning Denon Setup Assistant ensures you get set up right the first time. Every home theatre is different — that's why Denon uses the premium Audyssey MultEQ XT32 room calibration technology from Audyssey. Which, automatically measures and optimizes your AV amplifier to provide a truly immersive 3D audio experience custom-tailored to your unique listening environment.
Silver cables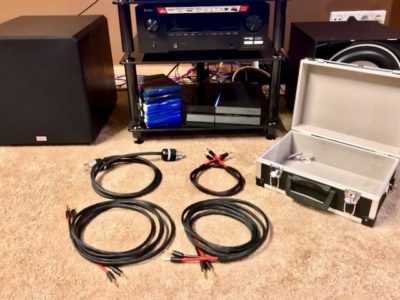 The Denon AVC-X3700H sounded great as we watched and listened to one of the classic 'Transformers' series. I was fortunate to sit in the central viewing seat and, able to hear how good the performance was. The idea was to see if by changing audio cables, would the system sound better. Van-den-Hul supplied the wires used with the design and, they certainly gave an excellent sounding performance. But, we had decided to try in the system, a power cable and silver loudspeaker cables from Perkune audiophile cables. 
Testing
I was again at 'Garso Namai', located Kauno g 31, Vilnius, Lithuania, and owned by Lucas Svedas. Lukas is always willing to listen to cables and test components. Lukas is still ready to help any person with their audio needs. And, if you visit 'Garso Namai' you are well on the way to improving your listening pleasure!
We listened to the system until we were able to determine a bass line for measurement and then changed to the Perkune cables. The cable we were testing was 1.5-meter Slimline power cable, a pair of three-meter Silver loudspeaker cables and 1.0-meter Silver speaker cable. And, these cables designed for home cinema applications.
Results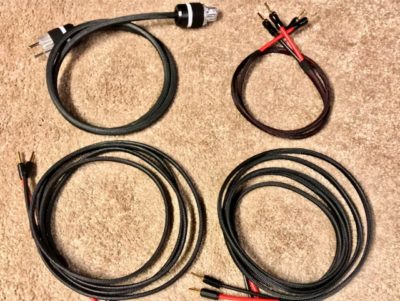 It is always interesting when changing audio cables because one just never knows what to expect and what results will be. But, in this case, it was easy to hear improvements in the sound from the system. The first thing we were aware of was the increased dynamics in the sound. It was like somebody had opened a door and we were right in the middle of the action. The clarity improved, and the detail and micro details filled the room, and this was wonderful to experience.
Everything became alive and involving. And, it was amazing to feel the fullness of the presentation, as everything was happening so fast. Maybe 'Electrified' would be a better term to use in this instance. But regardless of the choice of words, the difference that a set of cables made was a big surprise. If a person has spent a few thousand Euros on a system, then a few hundred more is well justified for the sound improvements you will get!
If you have enjoyed reading 'Denon AVC-X3700H and silver cables', please share with friends – thank you.
Perkune – Best budget Audiophile Cables