Bigger is better. The picture shows a pair of Tannoy Edinburgh SE that set up in my listening room to evaluate the performance which was done about three months ago. The Tannoys were in very good condition and perfect working order. They were also an excellent size and fitted very well into my Listening room. I have listed the specifications for you below.
Specs
Power Rating: 110 watts RMS (380-watt peak)
Recommended Amplifier Power: 50 – 200 watt/channel
Sensitivity ( 2,83 V at 1 m): 95 dB
Maximum SPL: 115 dB at 1m for 110 watts RMS (120 dB at 1m for 300-watt peak)
Nominal Impedance: 8 ohm
Minimum Impedance: 5,5 ohm
Frequency Response: 30 Hz – 25 kHz , ±3 dB
Crossover Frequencies: 1,2 kHz
Crossover Control: ±3 dB over 1,2 kHz to 25 kHz shelving; and +2 dB to -6 dB per octave over 5 kHz to 20 kHz slope
Crossover Type: 1st order LF; 1st order HF,
Bi-wired, hard-wired, passive, low-loss, time compensated Type 1133
Driver Type: 12-inch Dual Concentric High Compliance Type 3158
Enclosure Type: Distributed port reflex
Enclosure Volume: 200 litre
Dimensions (H x W x D): 1020 x 660 x 420 mm; (1179 x 708 x 468 mm packed)
Weight: 44 kg complete (54 kg packed)
Enclosure Material: Solid walnut with 18 mm particle board, cross-bracing and heavy internal damping
Sound?
The Tannoys have a very specific sound. And showed very much detail in all music that was played through them. They were very dynamic and could sound hard with fast-paced music but they also had a magic shift and were completely relaxed with softer music played through them. And, so we are getting closer to determine if we can say Bigger is better.
This surprised me in the way they reacted to all types of music. They required very little power to drive them, enough to fill my room and they were a pleasure to listen to. The bass response was good and tight and there was more than enough for any type of music played.
I have owned many Tannoy's over the years and these were a pair that I was very pleased to listen too and could see why they are becoming more popular with enthusiasts as they do offer great value for money and will only go up in value.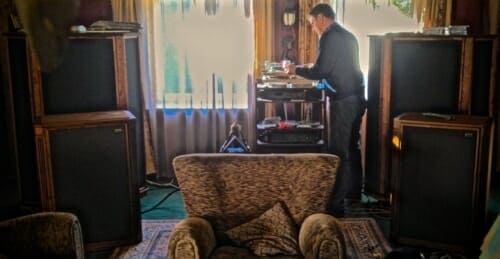 The above picture shows the Tannoy Edinburgh SE and a pair of Tannoy Autographs at one of my friends listening rooms and testing was done using different amplifiers, CD players, and turntables. We were able to get a very good feel for both sets of Tannoys and is not possible to forget the fun that we had!
Specifications
Power Handling Capacity: 50 Watts integrated (with Monitor Gold drive unit)
Frequency Range: 30 Hz to 20,000 Hz, +/- 4dB
Conversion Efficiency: In excess of 20 per cent over the entire range
Rear Horn Development: Effective 20 Hz to 250 Hz
Front Horn Development: Effective 250 Hz to 1000 Hz
Polar Distribution, 60 degree Included Angle: -4dB at 10,000 Hz
Height: 4 ft 10.5 inches.
Width at Walls: 3 ft 7 inches.
Frontal Width: 29.25 inches.
Depth, front to corner: 26.5 inches,
Finish: Hand Rubbed Mahogany, Walnut or Teak, Fabric:
Better?
The Autographs had their own delightful sound which was open inviting and compelling and they gave their own flavour to the type of music being played through them. They showed good detail ate all frequencies but their best feature was the bass which had tremendous depth. The sound stage was phenomenal absolutely breathtaking and it did not matter if it were CD or Vinyl the result was the just the same. They required a little volume for any of the amplifier to drive them as the room was more than filled to every corner.
Comparison
This is a very good way to test two great cabinets by doing direct side by side but first I would like to say that the sound from the Edinburgh SE had changed and this was because they were now playing in a much larger room that my listening room (about twice the size)  so this brought out differences that I had not heard.
First thing was the bass and I said how could anybody ever say that an Edinburgh lacks Bass because it was all there so full so rich so alive and they sounded fantastic. Now to compare the two was like opening up the Sound-stage 30%. The Edinburgh SE were a touch faster and had a touch more detail but the Autographs were just so open you soon forgot these little differences. We loved the sound from both and in so many ways we're very similar but in the overall, the Autographs were the best! Bigger and maybe Better 
Result
Yes, bigger is better if you have a speaker and put your speaker into a bigger room then it will sound better as we found out. Is bigger better meaning that you have a big speaker in a big room and put an even bigger speaker in that room. Again, the answer is yes as we found out. So, to conclude I would advise that you will find a bigger speaker will make your music sound better with regards to Sound-stage, Air, space and the feeling of realism.
Tannoy Edinburgh 
Tannoy Autograph 
If you enjoyed 'Bigger is Better', please share with friends – thank you.
Customer contact
Perkune – Best Audiophile Cables Online