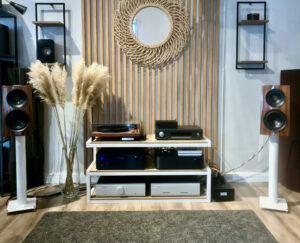 I am writing today as I have important information to share with you. But, first, I have found from experience many people need help understanding just how good their audio system is. And I am writing this article 'Best audiophile sound setup', in order to take you through the process.
Best audiophile sound setup
It does not matter what size your room is or how high the ceiling is. And it does not matter what type of audio setup you have. Also, it does not matter if your equipment is Hi-Fi or Hi-end. So the first item to address, and the way forward, is to reposition your loudspeakers. Yes, it is that simple, but it needs careful attention and a little bit of time. 
You have to sit in your listening position and take a photo of your audio system. And send the picture to my email address. I have been doing this for the past eight years, so I can tell you how much to move your speakers and how much to toe them either out or in. Best audiophile sound setup
I will look at the picture you send and recommend which way to move your speakers and by how much. Also, I will look at the audio components in the room and again make recommendations as to reposition them. And I will do the same with your carpets, curtains, mirrors, glass, and other items.
Recommendations
The next step is to send you my recommendations, and you will move your speakers and other items. After which, you will listen to your audio system, take another picture, send it to me, and tell me how your system sounds. In some cases, it can take a few emails and a few hours to sort everything out. But, it is well worth your time and effort as you will hear more of your music.
My system setup procedure will help you to hear your system better, and I know you will be pleased. For example, I had one person in Croatia who agreed to turn his system 90 degrees. And placing components on the other wall, his audio sound became completely different. However, he was more than pleased with the results and decided to continue the upgrade by changing his power and interconnect cables. Best audiophile sound setup
Conclusion
Over the years, I have helped many people improve their audio system performance. And I am more than happy to do the same for you. Because it only takes a few emails, and I LOVE doing it. I also have many photographs of systems I have set up, and you can see these photographs. Also, I have added a testimonial from an email received from a gentleman in Canada.
Testimonial
I'm finally documenting my experience with Paul and his cables. And I am writing this testimonial to share my experience as it may help others in three searches for equipment upgrades. First, I've contemplated upgrading my bi-amping system to get more from my B&W 803 D speakers. Second, I started moving up from AQ Rocket 88 to Paul's 'Airdream' and noticed a difference in quality. Third, I contacted Paul regarding my system and inquired about adding an amp to Bi-Amp and what I would need to improve to get more from my system. And his consultation was excellent. Best audiophile sound setup
I added a Moon 870A to my 700i and Matrix S speaker cables. I also purchased one each of Matrix S and Reference power cables and a Reference XLR cable. Once all connected, I noticed a big difference in sound quality. The sound came alive and filled the room magnificently. My speakers were working more efficiently without the strain effect. The vocals were clean, clear and crisp. The bass was solid and not overwhelming. My sound stage came alive. The combo of bi-amp with new cables made a whale of a difference. I was now hearing instruments I didn't recognise before this addition. Not only does Paul produce great cables, but he is a great consultant and helped me tweak my system. Which was done in about three emails with excellent results. Chet (BC Canada) 
If you have enjoyed reading 'Best audiophile sound setup', please share with friends – thank you.
Perkune audiophile cables I Professional audio service