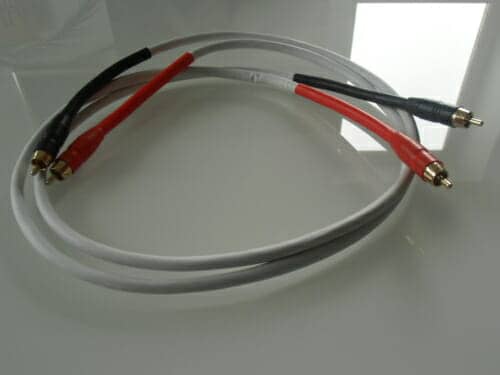 The Audiophile turntable cable is a beautiful sounding cable, which gives the feeling of air and space in the musical presentation.
The turntable cable is the perfect example of quality at an affordable price and will make your turntable sound better.
The turntable is one of the most respected pieces of equipment in your system and the sound from Vinyl can never be replaced. A true Audiophile always wants the best from his or her turntable and always takes the time and sets everything up to perfection. There are so may step to take and so many variations when dealing with a turntable and a person will always use the best cartridge he or she can afford.
Turntable cable
One item that always seems to be neglected is the cable that connects your turntable to your Pre-amplifier. The Audiophile turntable cable is the first item in the chain and so it should be the best because you want to be able to hear everything from your cartridge that was meant to be heard and without coloration and noise from a poor quality cable. I am able to offer you a cable that will allow your system to be heard in the way the music was recorded and show you every detail possible.
Ground cable
A ground cable is supplied the same length as the interconnect, And, can be fitted with the grounding connection of your choice. Also, you can choose the color.
Specification
Conductors: O.F.C Red Copper.
Insulation: Compact PE.
Shield: Spiral covered O.F.C Red Copper.
Sheath: PVC.
Outer sheath: Plastic shrink-wrap.
Cable Diameter: 6.0 mm.
Conductor size: 2 x 0.25 mm2 (23 AWG).
Conductor Number: 8 x 0.2 mm.
Resistance: 0.075 Ohms/meter.
Capacitance: 55 pF/meter.
Certificate: CEI 20-22/II°, RoSH 2002/95/EC, 2011/65/UE.
Pricing
If you have enjoyed 'Audiophile turntable cable' please share with friends and colleagues – thank you for your support.
Perkune – Best budget Audiophile Cables