This is my present
Audiophile Christmas Special
A 30% discount 'Gold' series ~
The Audiophile Christmas Special –
Starting on Christmas Eve and finishing on New Year's Eve.
To get your 'discount' – Simply put 2018 in the box when you check out.
This is my way of saying thank you to all my customers and to give you all a Christmas present.
I have decided to add a review. Which, is an interconnect in the ' Gold' series of cables. The testing started at the end of October and finished a few days ago. The Timing is perfect and makes a great read!
Christmas Special Review ~
The review is by Ludwig Hegel from Stereo I Kolorowo in Poland. The review is translated from Polish to English, by using the Google translator.
Ludwig is a true professional and one of the most noted review experts in Europe. I have never met or spoken and everything is via email. I came into contact three years ago, via a customer of mine who lives in Poland. My customer was very excited about the loudspeaker cables he purchased, and suggested I should ask Ludwig Hegel!
Unparalleled Mr Paul Goodwin, the constructor and owner of Perkune Audiophile Cables, at the end of October this year sent to me from Vilnius his latest symmetric cables. A pair of Perkune Audiophile Cables Ultimate XLR with a length of one and a half meters, so hence this Audiophile XLR cable review.
As Paul writes: "The Ultimate XLR GOLD offers an unmatched music reception level for an advanced audiophile. Improved sound stage, clarity, instrument position and a real sense of realism. Awareness of a real 3D experience and totally engaged in the music presentation. New and exciting, which makes it perfect for an audiophile who wants the best.
General impression ~
The cables were delivered in a regular carton by Lithuanian Post. When buying a Perkune cord, the shipment is already included in the price. Usually, the package takes about 3-4 days from the date of dispatch. The cables are wrapped in a plastic bag, and the plugs are additionally secured with small plastic bags. Simple but effective!
Cable construction ~
The cables look very solid and covered with black braids (in contrast to the lower series, where dark green coats are used). The XLR plugs have tightened black rubber flanges at the connection point with the cables.
The cables used are silver-plated copper OFC 99.99%. Three-level AirGap insulation was used (range from connector connectors to connectors of the second plug). This construction technique is used to minimize static and external disturbances. Thanks to this, the cable can reveal the smallest details and information from music. You can read more about 'AirGap' insulation technology
XLR connections ~
The plugs used are Japanese production. As Paul wrote in a letter to me, "These plugs are brilliant and it's much easier to work with than Neutrik." Everything internally is gold-plated – pins and the inner clamp. And much better for connections.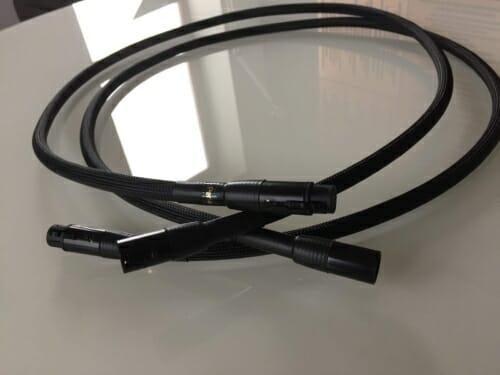 Significantly, they also have a larger size for cable handling. The new cable now has three levels of insulation (AirGap) and runs all the way to the top of the XLR connection. And called 'tip to tip' connection. During testing, this connection gave better performance resulting in a high quality sounding cable.
Technical data ~
I have always wondered what exactly (applied material, technology, sophisticated weaves, dialectics, everything together?) Affects the final price of audio cables. The price range of available cables on the market is enormous.
You can buy, for example, good interconnects for just over a dozen zlotys (I am thinking here mainly of professional cables such as Klotz, Van Damme, Sommer Cable, etc.) but there are also such expensive (Siltech Royal Signature Emperor Double Crown – 190,000 PLN, Nordost Odin Supreme – PLN 109 500, or Kimber Cables KS 6068 – PLN 98,500).
Are the most expensive really 1,000 times better than the cheapest ones? Do they sound so much better? And finally – does the price of these tops really reflect their quality? There is no simple answer here. And I used to follow common sense on my way and I choose cables with optimal quality/price correlation.
I also think that Perkune Audiophile Cables also contain such safe limits, although you can always say they could cost less. Expenses of approximately PLN 3,400 for the cables are not enough! Audiophile Christmas Special.
But in direct comparison to the price of the above mentioned Siltech Royal Signature Emperor Double Crown Lithuanian Ultimate XLR 1.5 m. Costs "pennies". OKAY. I am finishing this peasant philosophizing because the interconnects have to be described.
The start
In the beginning, I connected the Ultimate XLR interconnects 1.5 m between two DACs (and headphone amplifiers): Pioneer U-05 and NuPrime DAC-10H and a SPEC RSA-G3EX integrated amplifier.
Then I connected them to the Hegel H160 amplifier and finally to the Pathos Classic One MKIII amplifier. I also used them for the Musical Fidelity MX-VYNL phono preamplifier. The exact list of accompanying equipment is listed at the end of this text. 
The increase in the sound quality audible in the FAD Pandora Hope VI headphones (after the Perkune wire application to the headphone system) was phenomenal!
Well, after inserting the new Perkune Ultimate into the hi-fi system and listening to them, the above arguments become even more difficult to justify, and the possible answers are even more convoluted. Well, the difference in sound immediately becomes noticeable and obvious.
Perkune ensures high crystallinity and transparency of the message, great dispersion and diversity of sound, and most importantly – incredible shape and proportionality of sound. The effect of "wiping with a dust cloth on a dusty surface" is immediate and indisputable.
The tones become clearer, sharper and more resonant. Space "puffs up" and expands, while the individual instruments arranged on it gain in consistency, mass and precision. Both localization and sound. In addition, the background gets more black, and on such details suspended in the air have a chance to be better visible, and in principle – better audible. And they are!
I do not know what magical miracles Mr Goodwin uses, but the new Ultimate XLR is an extremely harmonious and transparent cable. It gives full and deep insight into music, and at the same time brings a very advanced message.
Conclusion
I  would like to use only nouns to correctly determine the sound of the title interconnects. And it would be the following nouns: colour, intensity, brightness, clarity and clarity. Sharpness, plasticity, penetration, juiciness, freshness, expressiveness and vivacity. And even more massive, precise and tangible.
However, writing about, for example, purity and clarity, I mean those features that do not capture anything in the sound. And do not distort anything (they do not falsify). Perkune is one of the best tonally balanced interconnects that does not brighten or sharpen.  And it's better to write – illuminate and specify.
They analyze, but do not hurt, do not sterilize. Yes, they intensify and intensify the tonal mass and colour, but at the same time, they do not exaggerate the content. They do not explain and do not dye the dark colours. Thus, you can write, mature optimism and racial universalism of sound.
Recommendation ~
Apparently, the above-mentioned immanent features of interconnects can be heard when connecting them to headphone amplifiers. And used to listen to headphones (and preferably those with symmetrical cables).
The increase in sound quality is of the highest and most complete. I especially recommend Perkune Audiophile Cables Ultimate XLR 1.5m to the so-called headphone track from the DAC.
To others (i.e. those with loudspeakers). These are some of the best XLR interconnects at any price, which I had on test. The Price of the cables in Europe – 797 Euro, or about 3 400 PLN.  Recommended!
The listening room
Amplifiers: Hegel H160, SPEC RSA-G3EX, Feliks Arioso 300B, Cayin CS-120A, Haiku-Audio Bright MK4 and Pathos Classic One MKIII.
Columns: Living Voice Auditorium R3, AudioSolutions Figaro S, Legend Audio System, Pearl 27 Audio Pylon, Martin Logan Motion 35XT and Guru Audio Junior.
CD player: Musical Fidelity A1 CD-PRO.
Network player: Auralic Aries Mini.
DACi: Pioneer U-05 (test TU), NuPrime DAC-10H and Encore mDSD and Dell Latitude E6440.
Turntable: Nottingham Analogue Horizon.
Cartridges: Ortofon 2M Black, Goldring 2500 and Goldring Ethos
Phono preamplifiers: Musical Fidelity MX-VYNL and 1ARC Arrow SE.
Tuners: Rotel RT-1080, Sansui TU-5900 and Tivoli Model. Cassette players:
Nakamichi Cassette Deck 1 (test TU) and Tandberg TCD 320.
Mini system: Pioneer P1-K.
Headphones: Fostex TH-610, Meze 99 Neo, MrSpeakers Aeon Flow Closed, MEE Audio Matrix 2, Audictus Achiever and Final Audio Design.
Network conditioners: Xindak PC-200V and Taga Harmony PF-2000

(TU test).

Accessories:

Rogoz-Audio 3SG40 anti-vibration mount, Rogoz-Audio 4QB80 speaker

bases,

Solid Tech loudspeaker bases, Rogoz-Audio BW40 anti-vibration feet.

Also:

Solid-Tech Radius Duo 3 audio cabinet, mat gramophone Harmonix TU-800EXi and pressure disc for Clearaudio Clever Clamp. Mass conditioner for QAR Dynamit loudspeakers  RCA Sevenrods plugs/speak

ers
Author – Ludwig Hegel (December 20, 2018)
Original Audiophile XLR cable review in Polish
If you have enjoyed 'Audiophile Christmas Special', please share with friends – thank you.
Perkune home