The Audiophile cable results were obtained over the past three months. And I am very pleased with the results customers are getting. Also I am more than happy to share these results with you because it helps to spread the word! The audiophile cable results, received from customers worldwide, And some of whom have been with me since the start of operations in 2015! Also I hope you will understand that a well made cable does make a difference to the sound heard at the speakers. Audiophile cable results
The Audiophile cable results
Matrix Amplifier cable
I was utterly shocked when I heard the Matrix black amplifier cable in my friend's listening room. And being an audiophile and interested in all forms of music for the past twenty-five years. I worked with three Audio companies and know the good from the bad. Also, with power cables, not every power cable is suitable for every component, which can cause many people to make a mistake when buying a power cable. This power cable provides an excellent floor for music to generate. And at the same time, it allows all details with transparency that brings out goosebumps. The cable reveals a vast sound stage and provides a piece having a rich and warm texture. I am more than impressed and will add one to my system – Tom Blinder (Music producer) Vilnius, Lithuania →
Matrix black loudspeaker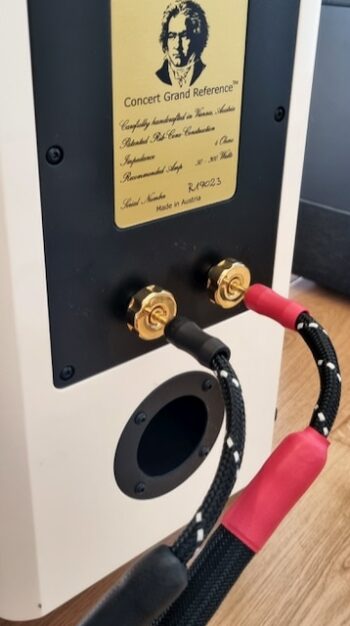 Hi Paul, and Just finished hooking up my Matrix black loudspeaker cables. And I can hear a difference straight away. The look and feel of them is just the best I have ever experienced. Also so light and easy to work with. But now have to go to work so will let them settle in for some hours before critical listening and let you know my results. As with all your cables after a few hours they always open up and surprise me just how good they are! I Have my hifi system run almost around the clock. So hope today or tomorrow, I'll get back to some serious listening. 
After three days, the Matrix Speaker cables bring more body and weight to the music, and encourages you to turn up the volume!, so you can get  this warm and all-enveloping sound closer to you.
Soundstage
Further more, these cables are capable of more tonal extension, in case, It opens up the Soundstage to sound beyond the speakers both in width and depth. Allowing great separation of components, with fluidity of rhythm and bass that is just SO spot on! And you know it when you can't stop toe-tapping to the music. Again, I'm just blow away!! 
The sheer massive musical impression one gets with these cables is simply the best I ever heard. And anther trait of the cables is the authenticity of hearing instrumental music. 
The deep level of details is not just awesome, but the flow of it all makes it down right enthralling listening too. And what fun to experience all this with your favourite music!
 It's like it opens a whole new world! Vocals sing to you with new authority and confidence!! This is how hi-fidelity music should  sound like! Micro details where you didn't expect to hear them, surly brings the experience up to a other level. And absolutely the most fun and exciting listening experience I can ever recall having. To be able to make my sound-system come alive like this, is unquestionably the talent of you, Paul and your Perkune cables. Can't thank you enough! Best from Eirik , Bergan, Norway 
Matrix black XLR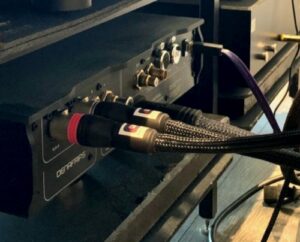 Hi Paul and I had a couple of ours before my work, so I was able to listen for a bit to the XLRs in my system. And I will say they are good cables. And they allow nice details and more air around instruments and vocals.
Also a very fast and tight bass. Especially I like more details in vocals and speech. Also I noticed after some time burn in, your power cables start to show so incredible deep soundstage! Its looks like my back wall is disappearing. I will try to listen more this evening and will tell you my feelings. Thanks you for your great cables and help – Audrius, Vilnius, Lithuania →
Matrix power cable
Hi Paul, After a few days, the cable has adapted nicely to my system, I now have the Matrix black on my home made DAC, and the result is excellent. The image is accurate, the sound has opened, and the representation is enormous and very 3D. The vocals and instruments are beautiful with lots of detail. The bass is tight and very strong. I would say that the sound image is neutral and pleasant to listen to, and it sounds as if everything flows over easily. Also, I like the rhodium on the plugs, and I think the sound is more precise and rich than gold contacts. I can't believe the cable took my system to a much higher level than I imagined.
Even though I only have one cable in the system, I can easily confirm that the Matrix black 2m cable is exceptional. A big thanks to you, Paul, because with your time and help, you helped me set up the system in a perfect position. And I will definitely add more Perkune cables in the future; I think they are of exceptional quality and bring the sound reproduction to such a high level that it is incredible. I must admit, Paul, you are an exceptional person, a good friend, and a true gentleman. Best regards from Slovenia – Miha Grebenc →
Matrix Black PC
Hi Paul, and I have been experimenting with different power cords in my sound system, and now with ALL Perkune cabling! (very proud) It turns out that your new Matrix black power cord fits right at home with my Ayre pre-amp. This pre-amp had my Perkune Reference  but know given to my Ayre QX-5 DAC. 
When I first got the Matrix black power cord, I connected it to my DAC (Ayre QX-5). It was good, but I was missing some finer details. Or decay of tones used to) Then, I did the switch after a while, so I think 24 hours will do justice to my theory! And I mean, it's all coming together. And allows for the finer details coming through my DAC and steamer and lets the ring of stones remain with my pre-amp (Matrix black power cord), and It works beautifully!! 
It all fell into perfection, the timing and this emphasis on rhythm. And the power cords do precisely what they are supposed to do! The results are more fun and now give a story. And in addition, the music now has a more personalised way of conveying the musical message. It's incredible to be still able to discover how your sound system can come alive! Thanks to you, Paul, For making these special moments possible – Eirik Rouppert, Bergen, Norway →
The Matrix Black XLR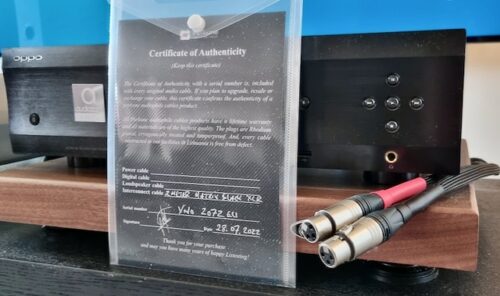 Hello Paul , and listening non stop to my Oppo PRO player with the new Matrix XLR. These XLR cables make my system sound absolutely amazing! So soft and yet so detailed! The tonality is just so incredible clear and inviting!
Now I can hear my music with such smoothness that it flows through me. been sitting and listening for hours, to cd after cd, and seem to never getting enough of the new sound. And I couldn't believe my CD-player could sound this good!! Vocals sound so natural! The atmosphere in the music fills the whole room with ease! 
The Wider Soundstage puts the sound and music beyond my speakers, which is way more than what I expected to hear. I just Love these new XLR cables! What a joy to be able to experience my system on this level of audio.
Listening to "Kings of convenience" the beautiful rendering of the gitar and piano, is just SO good! All from the timbre, to the texture now sound like real life!
What more can I say, Paul?! These cables blew my expectations right out of the water. I count my self lucky every time, having found you – Warmest Regards – Steve styles, UK →
Matrix Black Power Cable 
I received the 'Matrix Black' Power cable four weeks ago. It has been burning in continuously on my system and showing constant improvement. And I am very impressed with the construction and sound qualities. Also, the cable is an absolute pleasure to work with due to its flexibility. The music portrays natural transparency & richness that fills the listening area. The timbral accuracy and placement of instruments are uncanny, and there is no fatigue to the sound. I have had experience with various Perkune power cables for the past year and a half. And to my ears, this is Paul's best-sounding power cable to date. The price is very reasonable for the level of performance offered. Larry has gone on vacation to Spain for three weeks. And we both found the Matrix black power cable to be the best sounding power cable on our Audiolab transports over any other power cables we tried. I Highly recommend this power cable to anyone who wants to upgrade – Wayne Sennett, BC Canada →
Matrix Black speaker cable
Hey Paul, I have had a few listening sessions the last few days between being outside in this glorious summer we are finally having! As I mentioned in my previous email, out of the box, these cables are excellent. And the overall transparency and soundstage are just staggering. Even over the Reference cables, I had with my last speakers. The nuances in the recordings, such as Diana Krall 'Live in Paris',completely shocked me when I could hear the hammer hitting the strings on the piano, and her voice's timbre was astounding! All the vocals I listened to that I am familiar with on vinyl continued to be front and centre with much more fullness. And certainly enhanced and brought out the emotion of the pieces, which truly amazed me. Audiophile cable results
I went to the other end of the spectrum and listened to some Dire Straits….oh man, Mark's voice again resonates. Their guitars' mid and bass lines were tight, creating this almost over-sensory sound stage like never before. I wonder how you manage to do this, but the separate bi-wire configuration on this PMC Fact 8s has brought out their FULL potential. It was hard to concentrate on critical listening due to how incredible everything sounded! These cables will get better and better as they burn in – Regards Bill long, BC, Canada →
Matrix Black Cat 8
Hello Paul. And If I were to describe this network cable from Perkune in one word, it would be its personality. At first, I thought that it sounded much like the old one. But then it started to open up. With its super-smooth texture and delicate detail retrieval, I could see deeper in music than ever! The beats and rhythm are just flowing through my speakers like a river. So smooth and lush. And I hear how the personality of the music has changed. Like the music now has a new attitude, the immersion has gone up to the next level. The Reverb makes the Soundstage vast and impressive. It's a different sound listening to this Matrix Black network cable. The performance on the vocals is just outstanding, And you can hear how their personality shines through! And how is this sound quality even possible? All I can say is I and very pleased with this new sound. Every little thing matters, and been quite a surprise today. From where I started to how it sounds now is a total transformation – Edvinas, Odense, Denmark →
The Matrix Black PC
Hi Paul and I have to say the Matrix Black power cable exhibits extremely vivid tone colour, superb dynamic response, live-like timbral complexity, and fantastic image presence. Also, the natural life-like level of resolution and excellent soundstage portrayal is breathtakingly musical. And with such a high level of intensity of emotional engagement makes for a great experience. Also, a black background allows increased dynamic range, imaging and focus. The Bass is very tight, with great depth, and the tonal qualities of different Basses easily heard. Yes, an exceptional sounding cable, beautiful bottom end, and excellent control over the music through the midrange. – Tommy Blinder, (Music producer) Lithuania →Audiophile cable results
If you have enjoyed reading "Audiophile cable results", please share with friends- thank you
Perkune –Best budget audiophile cables