I have written 'Audio cables bi-wire and single wire' because it has been an excellent experience, and I wish to share it. A question I am asked by many is whether there is actually a difference in performance heard at the loudspeakers. And I always say there is a difference between my ears because I know how to listen.
Cables bi-wire and single wire
Today is a lovely day in Lithuania, and I called my colleague Lukas and asked if he would like to test a new Bi-wire cable. He replied that the coffee was on the stove and would be ready when you arrived. Great, I replied and see you soon. It is about a 15-minute walk to 'Garso Namai', the shop Lukas owns, and we would test the Bi-wire cable. And as the sun was out, it was a pleasant walk.
The coffee was hot, had a new flavour, and was a good upgrade. I commented on this and told Lukas that it reminded me of cables as constantly upgraded. After coffee, it was time to commence testing, but first, we must decide which speakers to use. I said why don't we use the reference bookshelves as it will give a better listening experience. And a chance to hear the difference in the performance. A great idea, he replied and picked out the model. cables bi-wire and single wire
Elac Reference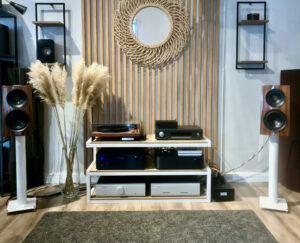 The Model was a beautifully made book-shelf speaker by ELAC, the Concentro S 503. And I knew how good this speaker was as we used it a few weeks ago for testing purposes. Also, the S 503, called a Reference speaker, tells you the absolute truth about what is under test. And the compact Concentro S 503 masterfully delivers the 'wow factor' from a surprisingly small package.
AS-XR technology – 

Unique, eye-catching, and acoustically ideal: the crystalline shape of the membrane provides the perfect balance of stiffness and damping.

Modern Hybrid Design – 

The progressive design elements from the Concentro Series combine with the clean lines of the Vela Series to create a strong visual presence.

StepX-JET – 

Since no two rooms are the same, midrange directivity can be adjusted using the exchangeable DCRs supplied.
Specifications
Type: 3-way, bass reflex
Woofer: 1 x 180 mm Ø, AS-XR cone
Midrange: 1 x 50 | 130 mm Ø, AS-XR AL cone
Tweeter: JET 5c
Crossover frequency: 400 | 2600 Hz
Nominal/peak power handling: 120 W | 200 W
Minimum impedance: 4,8 Ω bei 120 Hz
Peak power handling: 400 W
Sensitivity: 87 dB / 2,83 V/m
Suitable for amplifiers from 4 – 8 Ω
Nominal impedance: 4 Ω
Recommended amplifier power: 60 – 500 W/channel
Finishes: High-Gloss Black Lacquer,
Also: High-Gloss White Lacquer High-Gloss Walnut Veneer
Accessories: Bi-Wiring-jumper set, 3 DCR (Control Ring)
Height: 400 mm
Width: 225 mm
Depth: 372 mm
Weight: 13.4 kg
We also decided as well as a Loudspeaker testing session; we would make a speaker cables comparison. And we chose a reference cable from the Polish company, Melodika, the BSSC95xx, offering a pressed connection technology.
Reference cable
The cable and plug, which are pressed together with Solid Grip Technology, offer a much higher conductivity than a terminal made with screws or soldered joints. The solution employed in Melodika BSSC95xx provides a reliable, durable connection resistant to oxidation and offers excellent electrical conductivity with reduced resistance. Moreover, plugs are 24k gold plated, so they also do not oxidise and, thus, allow the low resistance connection during cable utilisation.
Melodika BSSC95xx, is a single loudspeaker cable with an immaculate, balanced, spacious, deep, and wide sound stage. Subtle emphasis on low and high tones with a slight smoothing of the latter made it possible to counterbalance the physiological properties of human hearing, which is less sensitive to these ranges.
The advanced BSSC95xx loudspeaker cable construction allows you to extract an enormous amount of micro sound details, not only in the high registers but also in the low and medium tones, and not found in other cables in this price range. And as a result, a line with an exceptionally neutral sound works perfectly for many Hi-Fi and Hi-End systems. cables bi-wire and single wire
Technical
9.5mm2 diameter

High-quality Polish OFC copper with a purity of 99.9999% (6N)

Geometry: two braids of conductors twisted together to eliminate their interference

Spiral Litz Technology – each conductor is separately insulated and twisted.

Multi-Gauge Core Technology – the unique cable construction, distinguishing several thicknesses of wires for even better transmission of the low, medium and high tones

Solid Grip Technology – instead of crimping or soldering, the plug pressed with the cable, which creates a tight and durable connection with much lower resistance

24K gold-plated plug

Triple low capacitance dielectric insulation with LDPE (foamed low-density polyethene)

The cable is directional.

Outer insulation ensures increased resistance to damage.

ROHS 2 certification

Hand-crafted finish with natural Italian leather

5-year warranty
And I was excited to hear how the Matrix singles bi-wire cable would sound against the Melodika BSSC95x with a price of 1500 Euros. Because the cables were on loan to me and wanted to hear them in a good system. And it is time to find out, cables bi-wire and single wire
Testing
The first task was for Lukas to select the music and various artists chosen. Male, female, Jazz, classic and electronic, to give the speakers a wide variety. And as Lukas warmed up the system, the testing commenced. The music played, and a beautiful sound emerged from the speakers. And the first thing that struck us both was the depth of the bass. Yes, believing so much bass could occur from such a small enclosure was hard to comprehend. How was this possible? I heard myself saying under my breath. And at the same time, I think Lukas thought the same.
The music flew by as the selection was first class. And it was easy to hear every note and every detail as the music flowed with the utmost ease from the speakers. I knew most of the songs played and was surprised how I could hear even more than in previous sessions. cables bi-wire and single wire
And I asked Lukas what he was thinking, and if he could listen to any improvement in the sound we heard. He replied that to him] the bass was the most significant difference in tone and weight, and also the solidarity of the music in the upper mids. I had to agree with everything he said as I felt the same.The music flew by as the selection was really first class. And it was easy to hear every note and every detail as they flowed with the utmost of ease from the speakers.
Cable difference
Time was racing, and now we felt it was time to listen directly to each cable. So we had the BSSC95xx on the right side and the Matrix singles bi-wire cable on the left side, making comparison easy. I have done this many times in the past, and it is easy to do, and I always use both ears. So first, the BSSC95xx and then over to the Matrix singles, with a stop of ten seconds at each. I got the information and then repeated the procedure. What do you think asked Lukas. I will go again to confirm I replied. cables bi-wire and single wire
Cable test 
The second attempt gave precisely the same results as the first. And I asked Lukas to change tracks so I could test again. But, again, I was impressed with what I heard from these magnificent Elac Concentro S 503 speakers. Furthermore, there was as much information when sitting in my listening position as standing a meter before them. And once again, my third listening session gave the same results. 
Testing results
Both cables performed flawlessly, and a person would be happy to own either. Also, the performance offered is undoubtedly better than many HI0end speakers cables costing three times the price. Both cables showed amazing 3D with the sound all around us. And the same with the bass, midrange and highs filled the room. The energy and excitement in the room were images we had never been part of before. And we became involved in the music. And three hours later, I can still remember the experience! cables bi-wire and single wire
Conclusion
I was very impressed with the speaker cables and the Elac reference bookshelf speakers. And this was an excellent experience for me. And I could hardly wait to return this beautiful cable to its owner, with my words of praise and opinion of the cable differences.
Is there a difference heard between the bi-wire and single-wire speaker cables? The difference was hardly noticeable, and the Matrix Bi-wire cable was a touch warmer and had more depth. But that is what one would expect from a bi-wire cable – right?
If you have enjoyed reading 'Audio cables from perkune', please share with friends
Author: Tomas Blinder – Music producer, Vilnius, Lithuania
Dated: 08/03/2023
Perkune – Best budget audiophile cables