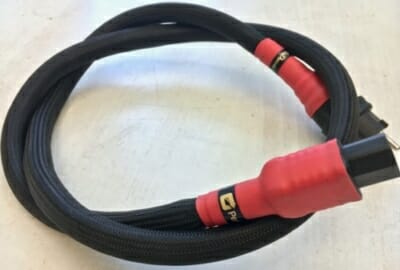 The 'AirDream' Power cord offers a high level of performance available in the market place today. And, considered to be the best value for money anywhere in the industry. The Build quality is superb, and the sound quality from this cable is in another league. And, you will hear from the first moment you connect, a new level of energy and excitement in your musical presentation.
Technology
The 'AirDream' Power cord, Introduced in March 2019 could be the last Power cord you will ever buy. They were designed and constructed by professionals with a lifetime of experience. The Power cord takes advantage of Perkune cable technology and offers the highest level of performance at this price point in the market place. 
AirGap
Air is the best insulator we have on this earth, used may many companies in various formats. The 'AirDream' Power cord, utilises this technique know as 'three-level 'AirGap' isolation', and 'AirTube' suspension. Also, the Power cord is using Aluminum foil shielding and, Additional insulation is by the use of 'Wool Rock' packing. 'Teflon' binding is used for the dielectric reduction effect in cables. Is fitted with industrial heavy-duty tamper-proof plugs made from special material and filled with 'Wool Rock'. And, designed to minimise vibrations, reflections, static charges and unnecessary distractions from any electrical Interference. The 'AirDream' power cord is a step up in every direction.
Specification
Cable

: 16.0 mm

Type: Multi-wire class 5

Conductors: 3 x 2.5 mm, OFC 99.9%

Resistance: 0.0033 Ohms/m

Voltage: 300-500 volts +40  deg C

Weight: 1.2Kg/m

Insulation: PVC type T12

Sheath: PVC type TM2

First line:

Single AirTube

Primary and Secondary AirGap: DERAY-PBFSP

Second line: Aluminum foil sheathing,

 AirTube

Secondary AirGap: DERAY-PBFSP, Single AirTube with 'Teflon' insulation

Outer sheath: CanuFlex PE-HB

Plugs: 'Wool Rock' insulation

Certificate: IEC 60320-1:2001 
Pricing
2.0 Meter Power cord EU Schuko/C-13 connection 1097 Euros
3.0 Meter Power cord EU Schuko/C-13 connection 1297 Euros
Customer  testimonials
If you have enjoyed 'AirDream' Power cord', please share with friends – thank you.
Perkune home – Best Audiophile Cables Online