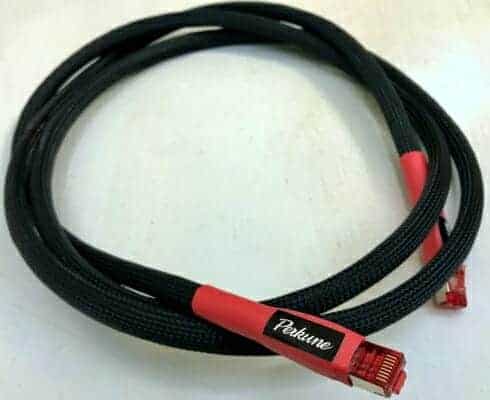 The Airdream Ethernet cable is the key to achieving a suitable interface when connecting first-rate AV components to a home network. The AirDream Ethernet cable, employes a fully shielded construction and virtually eliminates the crosstalk and electromagnetic interference (EMI) that has always afflicted previous network cables.
Ethernet
The cable is designed, manufactured, and terminated in Vilnius, Lithuania.  Provided with factory-terminated, shielded 8P8C/RJ45 connectors, this cable assures that no loss is incurred in the field. Each cable is constructed with the quality of fabrication, precision and consistency needed to ensure a guaranteed improvement over the standard-issue, mass-produced, low precision Ethernet cables.
Finally, before being terminated with gold-plated, fully shielded connectors, the AirDream 2 USB is cut to length, which reduces internal microphonics and high-frequency impedance resonance.
Ethernet is widely used in homes and industry. The Internet Protocol is commonly carried over Ethernet and so it is considered one of the key technologies that make up the Internet.
Specifications
Cable diameter: 12.0 mm

Specification: Cat 6

Conductors: 28 AWG x 8
OFC high purity 

Gold plated pins

Shielding class: S/FTP (PIMF)
LSZH compliant
Bandwidth: 250 MHz
Operating temperature from – 20 deg. C

Cable length 2.0 Meters

Braided shielding (primary)
Insulation: Compact PTFE 0.2mm

Aluminium foil shielding (secondary)


Vinyl Insulating tape

Outer sheath Canflux
Connection Type: RJ-45 (8P8C)
Pricing
2.0 Meter Ethernet  297 Euros
3.0 Meter Ethernet  397 Euros
If you have enjoyed  'The AirDream Ethernet cable', please share with friends – thank you.

Perkune home – Best Audiophile Cables Online