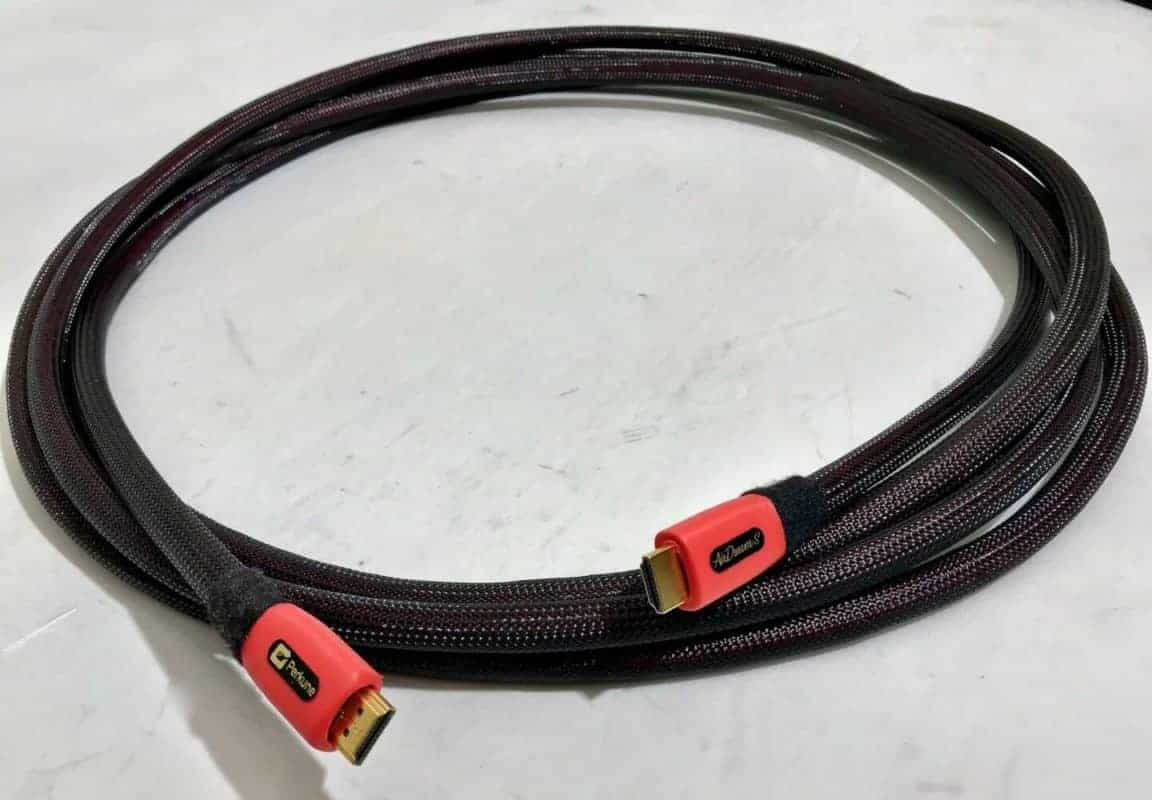 I am very pleased to introduce the AirDream S HDMI cable.  This is in-fact a big step above the Ultimate HDMI cable introduced at the beginning of 2019. The cable provides transmission of Ultra-sharp images in 4K resolution, perfect 3D images and full HD audio quality. Tripple shielding eliminates external interference. Integrated channel for transmitting network data. Return of the audio signal without additional audio cable.
HDMI
Several versions of HDMI have been developed and deployed since the initial release of the technology but all use the same cable and connector. Other than improved audio and video capacity, performance, resolution and colour spaces, newer versions have optional advanced features such as 3D, Ethernet data connection, and CEC (Consumer Electronics Control) extensions  – read more
The use of top quality components makes this cable a step up from the mass-produced cables. And, differences can be seen after the initial burn-in period. The images are more defined with improved colours. The overall picture is smoother with better detail in all areas. The audio reproduction is unlike anything heard before giving a huge soundstage with attention to details and audio (previously hidden) effects.
Antistatic
The AirDream S HDMI cable now fitted with Anti-static pads. Static is a killer when it comes to audio and the effect it has on audio performance. And, with every audio cable, a plastic bottle of anti-static liquid is supplied. The fluid sprayed over the surface of audio cables and equipment. And, will disperse existing static charge as well as inhibit future accumulation. The effects are easily heard, with a dramatic increase in the sense of life and presence, greater transparency and broader dynamics.
Technology
The technology is changing on a continual basis and the improvement in video production has come a long way in the past year. I am very pleased to announce the introduction of the AirDream S HDMI cable because it is a great cable for the Audiophile who loves music and loves to watch movies. The cable has extra shielding to help with unwanted noise induction. And, without a shadow of a dought, this cable will bring you even closer to the action – the Audiophile AirDream S HDMI cable is special!
Specification
Cable diameter: 13.0 mm
OFC high purity
Conductors: 24 AWG
High-speed HDMI cable 2.0 /18Gbps
4K@50/60 Hz, HDCP 2.2
HDR support, 3D, Ultra HD, 2160p
Tripple braided shielding
CEC-HDPC, EDID, Smart TV Compatible
Audio return channel
XV Colour, Additional colour space, Deep colour
Insulation: Compact 
Aluminium foil shielding
AirTube suspension 
Secondary sheath (AirGap): DERAY-PBFSP
Outer sheath Canflux
Pricing
1.5 Meter HDMI  297 Euros
3.0 Meter HDMI  397 Euros
5.0 Meter HDMI  597 Euros
Customer testimonies
If you have enjoyed  'The AirDream S HDMI cable', please share with friends – thank you.

Perkune Best budget Audiophile Cables