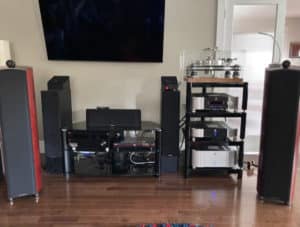 A new testimonial – Well, I'm finally getting around to document my experience with Paul and his cables. And I am writing this testimonial to share my experience as it also may help others in three search for equipment upgrade. I've been contemplating on upgrading my system to bi-amping in order to get more from my B&W 803 D speakers. I started out moving up from AQ Rocket 88 to Paul's 'Airdream' and noticed a difference in quality. I then contacted Paul regarding my system and inquired about adding an amp to Bi-Amp my system, and what would I need to improve things to get more from my system. 
A new testimonial Consultation
His consultation was excellent. I added a Moon 870A to my 700i and Matrix S speaker cables. I also purchased one each of Matrix S and Reference power cable along with a Reference XLR cable. Once all connected, I noticed a big difference in sound quality. The sound came alive and filled the room magnificently. My speakers seemed to be working more efficiently without the strain effect. Vocals were clean, clear and crisp. The bass was solid and not overwhelming. My sound stage came alive. The combo of bi-amp with new cables made a whale of a difference. I was now hearing instruments that I didn't recognise prior to this addition. 
New Assistance
Not only does Paul produce great cables, but he is a great consultant and helped me tweak my system. Which was done in about three emails with amazing result.
Current system:
Amp: Moon 870A
Integrated Amp: Moon 700i
Phono Stage: Moon 600LP
TT: V.I.P. Prime Signature
Cartridge: Lyra Kleos MC
Chet (BC Canada) A New Testimonial
If you have enjoyed reading this 'A new Testimonial' article, please share with others – thank you for your help
Perkune – Best budget audiophile Power cables